Lone Star College-Kingwood and the Harris County Fire Marshal's Office entered a partnership to provide educational opportunities and facilities for the college's Fire Science program.
The Harris County Fire Marshal's Training Facility agreed to provide classrooms and other services needed for hands-on training to ensure students get the best possible education and preparation for their certification and future career opportunities. The Harris County Fire Marshal's Training Facility is located in Atascocita.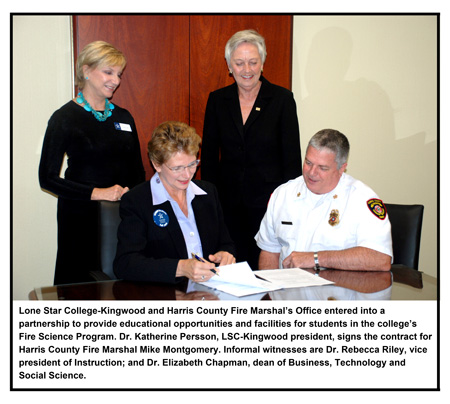 "We really believe in partnerships between local government, community and private partnerships and this is going to benefit all three," Mike Montgomery, fire marshal said. "This partnership is going to benefit Harris County because it gets us in closer with the community college and it will also benefit us in the long run because we will turn out better trained firefighters to help protect our community."
LSC-Kingwood's new program will meet the growing need for trained fire professionals in this area. This fall, students are taking the EMT prerequisite class, which will lead to the basic EMT certification. Once a student earns an EMT certification and completes all of the requirements as specified at http://www.lonestar.edu/fire-science-dept-kingwood.htm, then they are eligible to apply for the fire academy. Classes required for each semester must be taken concurrently.
"The purpose of the program is to attain a Basic Structural Firefighter certification. At minimum, all professional firefighters in Texas must be certified as a basic structural firefighter," said Tim Gibson, adjunct instructor. "This combined with an EMS certificate from the Texas Department of State Health Services will allow them to become a paid firefighter."
In addition to the classrooms and other facilities, students will be able to utilize the training facility's equipment, apparatus, and well-trained instructor pool. Students will use the services offered beginning in the spring semester and will complete the program the next semester. Students will also learn a variety of skills such as ladder, hose, rescue and more.
"Firefighting is very exciting and very rewarding. It allows individuals who like physical activity and the element of risk with the knowledge of how to manage it a chance to provide a very valuable service to their community," Montgomery said. "We would like to thank LSC-Kingwood for this opportunity. We are looking forward to this; this is truly a good partnership between local government and the community college system."
Certification earned in the college's fire science program will transfer to anywhere in the state of Texas as a career firefighter. Students may also use their certification to get jobs in other states. In addition to the certification, students can also earn their Associate of Applied Science degree, which can help them advance in today's job market.
Students accepted into the fire academy can register for the spring classes beginning Nov. 8; classes start Jan. 18. To register or for more information on the Fire Science program at LSC-Kingwood, contact Tim Gibson at 281-318-4324, Timothy.W.Gibson@lonestar.edu; or Sharon Kenemore, admissions counselor, at 281-312-1574, Sharon.L.Kenemore@lonestar.edu; or Linda Holcomb at 281-312-1567, Linda.A.Holcomb@LoneStar.edu.
---
Register now for credit classes in one of three ways: phone, online or on campus. Classes are offered days, evenings, or weekends in traditional, Internet, video, TV and independent study formats. Current students can register by telephone at 281-591-6625. Former and current students can register online at www.LoneStar.edu/registration
For general information about Lone Star College-Kingwood, call 281-312-1600 or visit our Web site at http://lonestar.edu/kingwood.htm
With more than 62,000 students in credit classes in spring 2010, and a total enrollment of nearly 85,000, Lone Star College System is the largest institution of higher education in the Houston area, and the second largest and the fastest-growing community college system in Texas. LSCS consists of five colleges including LSC-CyFair, LSC-Kingwood, LSC-Montgomery, LSC-North Harris, and LSC-Tomball, six centers, LSC-University Park, LSC-University Center at Montgomery, LSC-University Center at University Park, Lone Star Corporate College, and LSC-Online. To learn more visit www.LoneStar.edu.