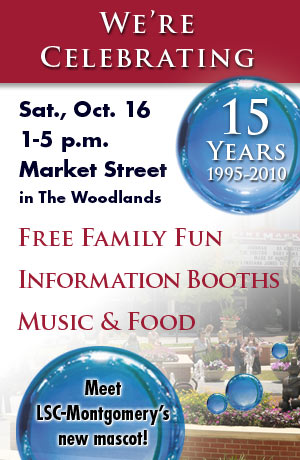 October 16 Event at Market Street in The Woodlands Features Music, Games, Refreshments, and a New Mascot!
Fifteen years ago, the Internet was in its infancy, Bill Clinton occupied the White House, and the Houston Oilers still played football…in the Astrodome.
A lot has changed since 1995, the same year that Lone Star College-Montgomery was dedicated by then-Texas Governor George W. Bush. That fall, the college opened its doors to a little more than 3,200 students. To put that in perspective, this fall LSC-Montgomery enrolled more than 12,500 students.
To celebrate what has been a seawave of change during its 15 years of existence, LSC-Montgomery invites area residents to a family-friendly all-community party on Saturday, October 16, 2010, from 1-5 p.m. at Market Street in The Woodlands. This community celebration will include free refreshments, live music, entertainment, as well as information and hands-on activities at booths represented by various programs and organizations at the college. The college's new mascot will also be unveiled. Students, faculty and staff recently voted on three finalists – Mavericks, Roadrunners and Gators. Other mascots from the area, including Woodforest Bank's Barkley and The Woodlands' Puffy the Pinecone, will be on hand to welcome the college's new mascot. Attendees will also have the opportunity to submit names for the new mascot.
The LSC-Montgomery Chamber Singers, led by Dominick DiOrio, professor of music, and the Jazz Ensemble, led by Kris Chapman, professor of music, will perform at the event, as will Lord Stirling's Drum & Fife Corp, led by Dr. Craig Livingston, professor of history. A special birthday cake will be served at 3:45 p.m.
"We want the community to know how much we appreciate the support it's given the college," said Dr. Austin Lane, president of LSC-Montgomery. "First and foremost, we want a fun, family atmosphere that everyone will enjoy. Second, we hope that all who attend the celebration leave knowing that LSC-Montgomery is a valuable community resource – no matter what age you are."
Indeed, during its 15 years, LSC-Montgomery has developed youth camps for children in elementary, junior and senior high school, as well as a vibrant, learning organization for active, older adults – the Academy for Lifelong Learning (ALL). In between these two age segments, LSC-Montgomery's mission has been to provide education and training for those students who wish to transfer to a four-year university, gain skills to enter the workforce, or simply improve the skills they already have.
"It doesn't matter who you are; if you need to improve your life, education is central to making that happen," added Dr. Lane. "We'll make every resource available to help students reach their goals."
Because the college is currently undergoing significant construction projects (including three new instructional buildings, a new campus in Conroe, and a recently completed five-level parking garage), it was decided that it would be best to hold the celebration at a popular off-site location. Market Street in The Woodlands fit the bill.
"Market Street is a hub of activity for many in Montgomery County," said Dr. Lane. "It hosts a variety of community events, and we feel it provides a great venue for our 15th anniversary while our campus is under construction. We invite everyone to come out and join in the celebration."
For more information about the college's 15th anniversary celebration, visit http://www.lonestar.edu/montgomery-15years.
LSC-Montgomery is located at 3200 College Park Drive, one-half mile west of Interstate 45, between Conroe and The Woodlands. For more information about the college, call (936) 273-7000, or visit www.LoneStar.edu/montgomery<http://www.LoneStar.edu/montgomery> .

With more than 69,000 students in credit classes for fall 2010, and a total enrollment of more than 85,000, Lone Star College System is the largest institution of higher education in the Houston area, and the fastest-growing community college system in Texas. Dr. Richard Carpenter is the chancellor of LSCS, which consists of five colleges including LSC-CyFair, LSC-Kingwood, LSC-Montgomery, LSC-North Harris, and LSC-Tomball, six centers, LSC-University Park, LSC-University Center at Montgomery, LSC-University Center at University Park, Lone Star Corporate College, and LSC-Online. To learn more visit LoneStar.edu.