Since its inception, graduates of the LSC-KingwoodDental Hygiene program have a 100 percent pass rate on the National Board Dental Hygiene exam and on the Western Region Clinical Board exam.
The Dental Hygiene program started at Lone Star College-Kingwood in fall 2004 with the first class graduating in May 2006. So far, the program has graduated five classes resulting in 62 registered dental hygienists.
"We work hard to prepare our students to take and pass both the National Board Dental Hygiene exam and the Western Region Clinical Board exam, which are both required in order to be a registered dental hygienist. Once they become registered, they are able to be employed in a dental office," said Maribeth Stitt, Dental Hygiene program director. "The success of our program is due to very dedicated and expert faculty and staff not to mention our awesome students."
Students can use their Associate of Applied Science Degree in Dental Hygiene to earn a bachelor's degree at Sam Houston State University. Currently, the program is working on articulation agreements with two different universities in the state that will allow students to use their AAS degree to further their education.
The Dental Hygiene program is a competitive entrance program which requires a minimum of completion of prerequisite courses in Chemistry, Anatomy and Physiology, English and Sociology. Students accepted into the program are prepared for the real world by treating patients from the community at the dental clinic on campus as well as rotations to the Community Clinic in The Woodlands, the Chief Kina Health Clinic on the Alabama/Coushatta Indian Reservation and at the Wunsche High School dental facility in the Spring Independent School District.
"It is through all of these hands-on experiences that our students are extremely prepared for a career in dental hygiene," Stitt said.
In the program, the dental hygiene students treat patients in the state-of-the-art dental hygiene clinic on the college campus. The students work under the direct supervision of the dental hygiene faculty and the clinic supervising dentist. The clinic is currently seeking people to serve as patients who have not had their teeth cleaned in more than five years.
For more information on LSC-Kingwood's Dental Hygiene program, visit http://lonestar.edu/dental-hygiene-requirements.htm. To learn more regarding services available in the dental hygiene clinic, call 281-312-1721.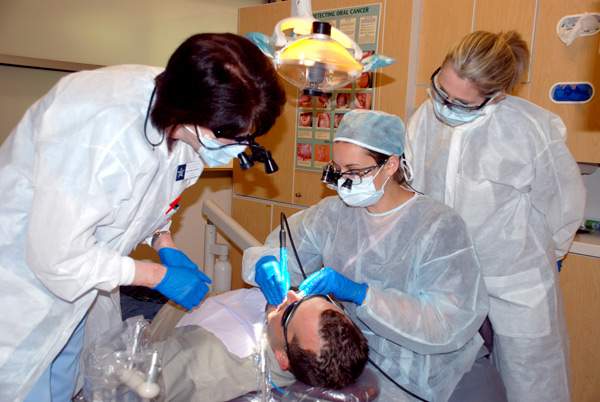 LSC-Kingwood's Dental Hygiene graduates continue the program's 100 percent pass rate for the fifth year. The program trains students to become certified dental hygienists. Pictured is Michelle Williamson working on a patient under the direct supervision of faculty members Diane Wilson, RDH, BS, left, and Rebecca Ficken, RDH, BS.
---
Register now for credit classes in one of three ways: phone, online or on campus. Classes are offered days, evenings, or weekends in traditional, Internet, video, TV and independent study formats. Current students can register by telephone at 281-591-6625. Former and current students can register online at www.LoneStar.edu/registration
For general information about Lone Star College-Kingwood, call 281-312-1600 or visit our Web site at http://lonestar.edu/kingwood.htm
With more than 69,000 students in credit classes for fall 2010, and a total enrollment of more than 85,000, Lone Star College System is the largest institution of higher education in the Houston area, and the fastest-growing community college system in Texas. Dr. Richard Carpenter is the chancellor of LSCS, which consists of five colleges including LSC-CyFair, LSC-Kingwood, LSC-Montgomery, LSC-North Harris, and LSC-Tomball, six centers, LSC-University Park, LSC-University Center at Montgomery, LSC-University Center at University Park, Lone Star Corporate College, and LSC-Online. To learn more visit www.LoneStar.edu.