A lesson in civic engagement and democracy for college students, faculty, staff and the community will take place Oct. 14 at 12:30 p.m. and 7 p.m. in Lone Star College-Kingwood's Teaching Theater (CLA 114).
Dr. Harry Boyte, founder of Public Achievement, will speak on "Sobering Up: The New Citizen Politics and the Transformation of American Democracy." Public Achievement is a theory-based practice of citizens organizing to do public work in schools, communities and universities in more than a dozen countries.
"Dr. Boyte will talk to the college and community regarding the vision of democracy that is often lost," said John Theis, associate professor of political science. "Most people associate democracy with voting, but voting is really the smallest portion of democracy."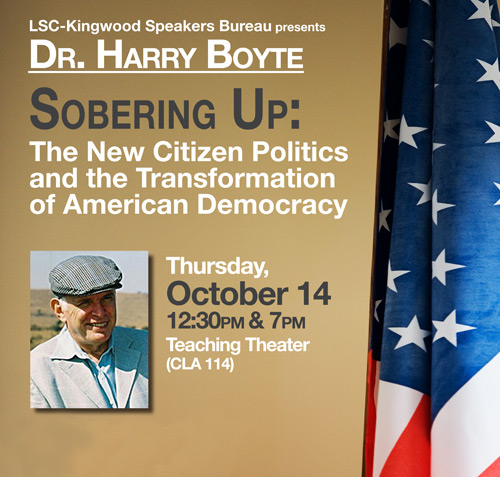 The speaker's focus will be on the citizenship movement. With his vast experience in organizing democracy in schools in the south during the 1960s, Boyte will be able to share his grass-roots perspective of democracy.
According to the Center for Citizenship and Democracy at Augsburg College, Boyte served as a senior advisor to the National Commission on Civic Renewal and presented research findings at a Camp David seminar on the future of democracy. He is the author of nine books on citizenship, democracy, and community organizing, and his writings have appeared in more than 100 publications including the "New York Times," "Perspectives on Politics," "Kettering Review," and the "Wall Street Journal." He also worked for Rev. Martin Luther King, Jr. as a field secretary with the Southern Christian Leadership Conference during the Civil Rights Movement in the 1960s.
"He is an important figure in democratic theory and will give our students and community a perspective that we do not see in conventional media. This presentation should be very enlightening and entertaining," Theis said.
Boyte will also share his international perspective on democracy based on what he recently learned in South Africa while helping with citizenship movement. In addition to his experiences, Boyte teaches graduate and undergraduate courses on organizing theory and practice at the University of Minnesota's Hubert H. Humphrey Institute of Public Affairs.
Dr. Harry Boyte's presentation is free and open to the community. For more information, call 281-312-1741 or email John.J.Theis@LoneStar.edu.
---
Register now for credit classes in one of three ways: phone, online or on campus. Classes are offered days, evenings, or weekends in traditional, Internet, video, TV and independent study formats. Current students can register by telephone at 281-591-6625. Former and current students can register online at www.LoneStar.edu/registration
For general information about Lone Star College-Kingwood, call 281-312-1600 or visit our Web site at http://lonestar.edu/kingwood.htm
With more than 69,000 students in credit classes for fall 2010, and a total enrollment of more than 85,000, Lone Star College System is the largest institution of higher education in the Houston area, and the fastest-growing community college system in Texas. Dr. Richard Carpenter is the chancellor of LSCS, which consists of five colleges including LSC-CyFair, LSC-Kingwood, LSC-Montgomery, LSC-North Harris, and LSC-Tomball, six centers, LSC-University Park, LSC-University Center at Montgomery, LSC-University Center at University Park, Lone Star Corporate College, and LSC-Online. To learn more visit www.LoneStar.edu.