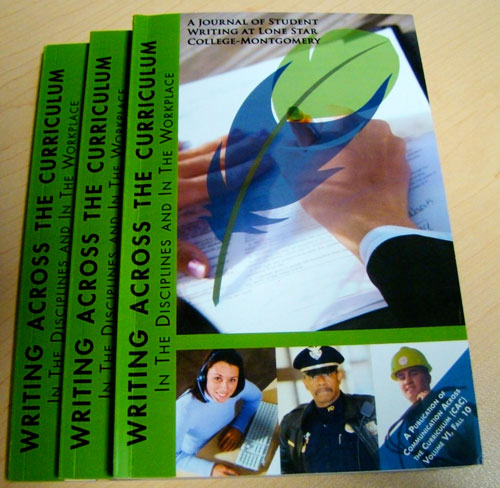 Stepping into the passenger seat of the police cruiser, Vanessa Hadrych, a criminal justice student at Lone Star College-Montgomery, was excited to begin a 'ride-along' with her brother, Alex Hadrych, chief of police for Splendora Police Department. As part of a classroom assignment, Hadrych was confident she'd make some observations during the ride-along and effortlessly complete the required essay.
But ultimately, Hadrych's experience offered much more than a grade. It helped cement her career choice in criminal justice and provided her insight into a lifestyle of helping the community.
In addition, the assignment offered a much-needed outlet for Hadrych. In her essay, which was published in the most recent issue of LSC-Montgomery's
Writing Across the Curriculum: In the Disciplines and In the Workplace,
a journal of multi-disciplinary writing by students, Hadrych shares a candid look into her personal conflicts during the ride-along.
"I did not anticipate the ride-along to be so personal, and I remember being quite conflicted during that time," said Hadrych. "In my essay, I tried to maintain a focus on drawing parallels or contradictions to the material covered in class, but everything I saw reminded me of my sister who struggles with addiction, making it all the more difficult to focus on 'theories.'"
Hadrych's piece entitled
Ride Along
is one of just 22 works selected by LSC-Montgomery faculty members and published in the journal. Mark Stelter, professor of criminal justice at LSC-Montgomery, helped Hadrych revise the piece and nominated her essay for inclusion in the journal.
"Law enforcement professionals use critical thinking skills and write detailed reports daily in their field, and their ability to communicate will often make the difference in solving a crime" said Stelter. "Through this experience, not only did Vanessa learn about the trials and tribulations of police work, but she gained a great deal of insight as she entered her brother's world."
More Than a 'Collection of Assignments'

Writing Across the Curriculum: In the Disciplines and In the Workplace
(Vol. 6), features writing pieces from varying disciplines and genres carefully crafted by students under the guidance of faculty. The journal is sponsored by the Communication Across the Curriculum (CAC) initiative, a group of faculty that encourages interdisciplinary Writing Across the Curriculum (WAC), as well as faculty dialogue, and curricular experiments.
Students have written lab reports, film critiques, journal entries, memoirs, and essays, in nine different subjects such as biotechnology, criminal justice, English, foreign language, and drama.
"This is not simply a collection of assignments. The students have written in a professional style using the same skills as faculty and professionals," said Ron Heckelman, professor of English and chairman of the CAC advisory group.
WAC is a 40-year-old national writing initiative. It is most often found at four-year colleges or universities, but only occasionally found at two-year colleges like LSC-Montgomery.
Martina Kusi-Mensah, professor of English, has worked with Heckelman and others on maintaining and developing the WAC initiative focus on campus, most recently through The Write Place @ LSC-Montgomery, the campus' newly improved writing center.
"The Write Place is staffed with tutors who are prepared to help
all
students at
all
levels at whatever point they are at in their piece of writing," said Kusi-Mensah, who serves as director for the center. "Both the professional tutors and faculty tutors work with students in any course or any discipline, and eventually, we would like to have the resources to make our services available to the general public, as well."
Students and faculty, as well as community members are encouraged to pick up their free copy of the journal at one of the following locations on campus: the kiosk near Campus Grounds (Building F) and the library (Building F).
For more information, please contact Martina Kusi-Mensah at
Martina.S.Kusi-Mensah@lonestar.edu
or Ron Heckelman at
Ronald.J.Heckelman@lonestar.edu
.
LSC-Montgomery is located at 3200 College Park Drive, one-half mile west of Interstate 45, between Conroe and The Woodlands. For more information about the college, call (936) 273-7000, or visit http://www.LoneStar.edu/montgomery.htm.

With more than 69,000 students in credit classes for fall 2010, and a total enrollment of more than 85,000, Lone Star College System is the largest institution of higher education in the Houston area, and the fastest-growing community college system in Texas. Dr. Richard Carpenter is the chancellor of LSCS, which consists of five colleges including LSC-CyFair, LSC-Kingwood, LSC-Montgomery, LSC-North Harris, and LSC-Tomball, six centers, LSC-University Park, LSC-University Center at Montgomery, LSC-University Center at University Park, Lone Star Corporate College, and LSC-Online. To learn more visit LoneStar.edu.