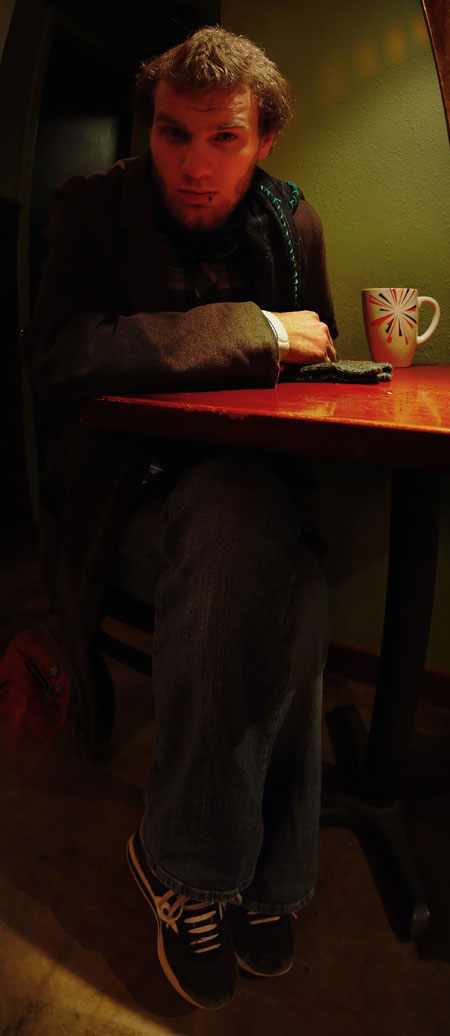 Richard Allen Ashmore, an adjunct geology instructor at Lone Star College-Montgomery and a national award-winning photographer, has been selected to show his photograph,
The Poet, 2006,
in a national juried exhibit entitled 'Essence: The Truth in the Portrait,' on display in Austin at Austin Details Art + Photo Gallery through Saturday, October 30, 2010. An opening reception will take place at the gallery on Friday, October 15, from 6-8 p.m. The public is invited to attend the opening reception and admission is free.
Ashmore's photograph was selected for the exhibit along with work from nine other artists throughout the United States. In addition to the jury-selected work, the exhibit will also highlight art by internationally acclaimed portrait photographer William Coupon. Coupon, an artist from New York City, has photographed numerous presidents, world leaders, and entertainment and sports celebrities.
The show is a nationally competitive photography exhibit produced and juried by Jann Alexander, founder/director of the gallery. All jury-selected artists in this exhibit have taken a non-traditional approach to portraiture.
"We're presenting 10 artists who portray their subjects' hidden qualities—the essence—in their portraits," said Alexander.
Ashmore's work,
The Poet, 2006
, is a portrait of Michael Frels, an artist Ashmore knew when he lived in Lubbock, Texas. The image was taken at a quaint coffee shop and is a composite digital photograph.
"It was Michael's idea to shoot a panoramic portrait, but shooting a near life-sized composite portrait can be very tedious and time-consuming," said Ashmore. "Michael's expression gives this photograph an intimacy and a timelessness of its own. He was as much an artist in front of my camera that night as he is with his own creative endeavors."
This is the third time
The Poet, 2006
has been selected for juried exhibitions in Texas. The first was at Illuminance 2007 at the Buddy Holly Center in Lubbock; the second for The Texas Photographic Society's 23rd Annual Members' Only Show at the Dishman Art Museum at Lamar University in Beaumont.
Ashmore has been a faculty member at LSC-Montgomery since January 2010. He has more than 13 years experience teaching biology and geology courses. As an artist, Ashmore's documentary work reveals his interests and professional training in the sciences, art, human nature, history, and architecture.
Many of his photographs are high-resolution composite panoramic images. Over the past several years, he has experimented with and employed low and wide-angle techniques to give his photographs a sense of intimacy, producing for the viewer an illusion of being with the photographer at the time the photographs were taken. Many of his photographic subjects have been affected by human interaction and, thus, reflect part of the human condition and society's impact on the environment and each other.
Ashmore is represented in Texas by Pinehurst Gallery in Orange and The Spirit of the West Gallery in Alpine. Since 2006, he has presented work in 33 exhibits, including 11 national juried exhibitions, four solo exhibitions, and seven invitation-only exhibitions. He has been awarded two national first place awards at juried exhibitions and has work permanently archived and on display at Texas Tech University's Southwest Collection and Lamar University's Department of Earth and Space Sciences in addition to numerous private collections.
The Poet, 2006
, as well as Ashmore's other work, can be viewed at Ashmore's website:
www.richardallenashmore.com
.
The Austin Details Art + Photo Gallery is located at 106 E 8th in Austin. For more information, please contact Richard Ashmore at (806) 392-2283, or via email at
richard@richardallenashmore.com
.
LSC-Montgomery is located at 3200 College Park Drive, one-half mile west of Interstate 45, between Conroe and The Woodlands. For more information about the college, call (936) 273-7000, or visit www.LoneStar.edu/montgomery.

With more than 69,000 students in credit classes for fall 2010, and a total enrollment of more than 85,000, Lone Star College System is the largest institution of higher education in the Houston area, and the fastest-growing community college system in Texas. Dr. Richard Carpenter is the chancellor of LSCS, which consists of five colleges including LSC-CyFair, LSC-Kingwood, LSC-Montgomery, LSC-North Harris, and LSC-Tomball, six centers, LSC-University Park, LSC-University Center at Montgomery, LSC-University Center at University Park, Lone Star Corporate College, and LSC-Online. To learn more visit LoneStar.edu.