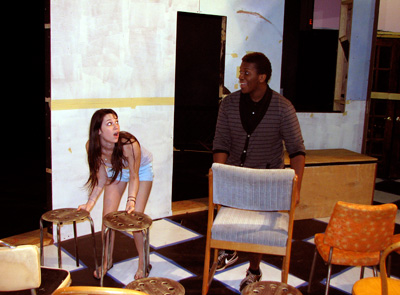 Absurdism, the human tendency to seek the meaning of life and the human inability to find it, is the amusing highlight of Lone Star Kingwood's drama production, "The Chairs."
"The Chairs", by Eugene Ionesco, embodies the essence of absurdist theatre in all of its comic glory.
"This is a very unique production. 'Absurdism' isn't seen often on the stage outside of the educational theatre. The material is comical, but very challenging for our actors," said Eric Skiles, chair of the Drama department. "The community is invited to come out and enjoy this play. We will be able to show off some of the exciting renovations to the theatre space by producing this show."
"The Chairs" is portrayed and managed by LSC-Kingwood students. The main characters, the old man and old woman searching for the meaning of life, are double-cast with students Jesse Anholt, Christian Hill and De André Goins, Emily Morris. Student Chris Gubbs is the stage manager.
According to the official description, the production is centered on an elderly couple who prepares for guests to come and hear the meaning of life revealed. As the party-goers arrive, each is given a chair and a place of honor in the ever-increasing crowd as they wait for the orator to arrive and deliver his speech. This is a theatrical moment not to be missed.
"The Chairs" will run Nov. 11-12 at 7:30 p.m. and Nov. 13-14 at 2 p.m. and 7:30 p.m. in the Student Fine Arts Theatre. General admission is $12; senior citizens are $10 and students, faculty and staff are $5. For more information on the production or to reserve tickets, call Jan Schultz at 281-312-1532 or email her at Janet.A.Schultz@LoneStar.edu.
---
For general information about Lone Star College-Kingwood, call 281-312-1600 or visit our Web site at http://lonestar.edu/kingwood.htm
With more than 69,000 students in credit classes for fall 2010, and a total enrollment of more than 85,000, Lone Star College System is the largest institution of higher education in the Houston area, and the fastest-growing community college system in Texas. Dr. Richard Carpenter is the chancellor of LSCS, which consists of five colleges including LSC-CyFair, LSC-Kingwood, LSC-Montgomery, LSC-North Harris, and LSC-Tomball, six centers, LSC-University Park, LSC-University Center at Montgomery, LSC-University Center at University Park, Lone Star Corporate College, and LSC-Online. To learn more visit LoneStar.edu.