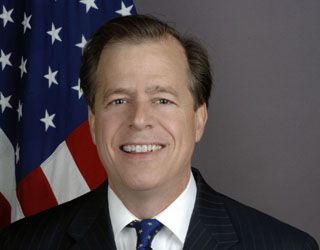 United States Ambassador Glyn Davies will visit Lone Star College-North Harris on Thursday, Nov. 18 to discuss nuclear security, the ongoing worldwide effort to reduce reliance on nuclear weapons, prevent their falling into potentially dangerous hands, and ultimately their elimination as a threat to the world. Ambassador Davies' presentation, one of several events taking place on campus as part of 2010 International Education Week, will be held in room 101 of the college's community education building.
Ambassador Davies is the permanent United States representative to the International Atomic Energy Agency and the United Nations Office in Vienna, Austria. His responsibilities include advancing U.S. interests in countering proliferation, terrorism, organized crime, and corruption, while promoting the peaceful use of nuclear energy.
The lecture will reference the film "Nuclear Tipping Point," by former U.S. Secretaries of State George Shultz and Henry Kissinger, former U.S. Secretary of Defense William Perry, and former Senator Sam Nunn, who, in the film, share personal experiences that led them to support a world free of nuclear weapons and the steps needed to get there.
2010 International Education Week, runs Nov. 15 – 19 and will feature a number of events to showcase the college's diversity and promote a global perspective among students. All events, including Ambassador Davies' lecture, are free and open to the community. Visit LoneStar.edu/NH-IEW for more information.
On Monday, Nov. 15, Audio Telepathy, an evolving collective based on the original compositions of Aaron Hermes, will perform Indian-inspired music in the campus courtyard beginning at noon. Free curry will also be available to those who attend.
More music, this time from the college's own steel drum band, can be heard on Tuesday, Nov. 16, also in the campus courtyard. Free drinks will be provided. On Wednesday, Nov. 17, LSC-North Harris' own students will hold an international show featuring traditional dress, dancing, and performances highlight cultures from around the globe. The show kicks-off at noon in the courtyard.
International Education Week at LSC-North Harris is sponsored by the World Affairs Council of Houston and the LSC-North Harris International Studies Committee. International Education Week is a joint initiative of the U.S. Department of State and the U.S. Department of Education to promote programs that educate young Americans about their global environment.
Lone Star College-North Harris is located at 2700 W.W. Thorne Drive, one-half mile south of FM 1960 East, between Aldine-Westfield and Hardy Roads. For more information about the college, call 281.618.5400 or visit LoneStar.edu/NorthHarris.
With more than 69,000 students in credit classes for fall 2010, and a total enrollment of more than 85,000, Lone Star College System is the largest institution of higher education in the Houston area, and the fastest-growing community college system in Texas. Dr. Richard Carpenter is the chancellor of LSCS, which consists of five colleges including LSC-CyFair, LSC-Kingwood, LSC-Montgomery, LSC-North Harris, and LSC-Tomball, six centers, LSC-University Park, LSC-University Center at Montgomery, LSC-University Center at University Park, Lone Star Corporate College, and LSC-Online. To learn more visit LoneStar.edu.
###