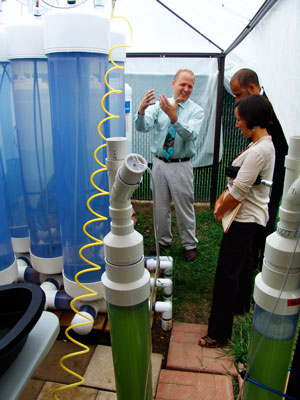 Algae is slithering its way onto campus at Lone Star College-Montgomery, leaving a 'green' handprint on the biotechnology program and forecasting a community-wide change. No, LSC-Montgomery doesn't have a dirty fountain. Rather, the college has been chosen by the National Algae Association (NAA) to host the first commercial-scale, closed-loop photobioreactor (PBR) in the greater Houston area. This system will convert pond scum into biofuel, ultimately making the campus and possibly the entire community more self-sustainable.
"At the community college level, no one else is Texas is doing this sort of project, and on a national level, I know of only two other colleges involved with this type of research," said Dr. Danny Kainer, professor of biology at LSC-Montgomery and director of the college's Biotechnology Institute. "The PBR, which utilizes greenhouse technology to grow hundreds of gallons of algae at a time, will open up opportunities for students in our biotechnology program to do research, complete on-site internships, and develop partnerships within the energy industry."
The PBR was installed on campus this spring, but plans are already underway to install three more PBRs with several design modifications, as well as the harvesting and extracting equipment needed to generate the biofuel.
"The PBRs will generate 'green crude,' or the algae equivalent of crude oil," explained Barry Cohen, founder and executive director of the NAA. "Using the green crude and waste vegetable oil collected from the local community, the campus will be able to make biodiesel fuel, which could be used to fuel campus vehicles and equipment."
Under the guidance of Kainer, students in the biotechnology program work directly with the PBRs to grow the algae and monitor growth rates and pH levels, as well as carbon dioxide and nutrient levels. Their research will benchmark the commercial-scale system and be used in future industrial algal oil projects.
"What the students learn from this hands-on project will be invaluable," said Ed Baker, a member of the NAA based in San Diego. "You can read about something like this or do it in a test tube, but seldom do students get the opportunity to work on and learn from a commercial-scale project."
The project will also allow the biotechnology program to broaden its scope to include a focus on alternative energy and provide internships for students interested in that field. To that end, the college has added a new general microbiology course (Biology 2421) available in the spring 2011 semester that includes in-depth coverage of algae, including an examination of industrial applications and algal oil research.
The Algae is 'Greener' in Houston Area
"Being in the greater Houston area, which is essentially the energy capital of the U.S., we're in a great position," said Kainer. "Big oil companies are here, and they're investing in algae research and the technology behind it. This is a great opportunity for our students and our program."
Converting algae to fuel, especially using this technology, is an emerging market that according to Cohen, could potentially change the face of the oil industry. And LSC-Montgomery is helping lead the charge by providing research opportunities, lab and field studies, and training for the inevitable jobs that will be needed when the industry scales up.
"We've been able to do a lot of preliminary research in this field and will continue to do so as our program grows," said Kainer. "In fact, our solutions may even help reduce costs for the industry on a larger scale."
To show support for this project and the burgeoning algae industry, Havel Plastics, Inc., based out of Easton, Pa, donated all the custom plastic components needed to create the first PBR, as well as the materials to build two more with a modified design. In addition, George Fischer Plastics, based in California, has donated the materials to construct a fourth PBR.
'Algae-preneurers' Are Elbow-Deep in Pond Scum
Currently, there are more than 10 students working directly with Kainer, Cohen, and NAA on this project, even using project components to help fulfill the internship requirement for the advanced technical certificate (ATC) program in biotechnology.
Former student Mark Roth had the opportunity to be a part of the preliminary algae studies, even working with others to construct small-scale, tabletop PBRs to begin algal biodiesel research.
"Our partnership with the NAA sets the stage for those in the industry to springboard, not only from seeing our production in operation, but from learning from our research," said Roth, who recently completed the ATC certificate to complement his bachelor's degree in biology from the University of Texas at San Antonio.
While the possibilities of using algae to create household products are endless—Cohen said algae could be used for anything from cosmetics to fertilizers—Kainer and the students at LSC-Montgomery plan to focus solely on creating fuel at this point in time.
"The first step is to get good at growing the algae—and honestly, we're getting pretty good at that," said Kainer. "Our students are helping to characterize the best species of algae to use and the best conditions for growing that algae optimally. Soon, we'll be moving into the harvesting and extraction processes that will help contribute significantly to the biofuel production process."
"In fact, when we reach the point where we are producing algae-derived biodiesel, LSC-Montgomery will be the home of one of the first commercial-scale algal biorefineries in the nation," added Kainer.
Cohen refers to the students, as well as all the members of the NAA, as "algae-preneurs," since they're committed to holding on tight—as tight as you can to a slimy product—to the algae industry and how it can shine a 'green' light on renewable, self-sustainable energy.
For more information about the photobioreactors or the Biotechnology Institute at LSC-Montgomery, please visit
www.LoneStar.edu/biotechnology-dept
; or contact Dr. Danny Kainer at
daniel.b.kainer@LoneStar.edu
or 936.273.7060.
LSC-Montgomery is located at 3200 College Park Drive, one-half mile west of Interstate 45, between Conroe and The Woodlands. For more information about the college, call 936.273.7000, or visit www.LoneStar.edu/Montgomery.

With more than 69,000 students in credit classes for fall 2010, and a total enrollment of more than 85,000, Lone Star College System is the largest institution of higher education in the Houston area, and the fastest-growing community college system in Texas. Dr. Richard Carpenter is the chancellor of LSCS, which consists of five colleges including LSC-CyFair, LSC-Kingwood, LSC-Montgomery, LSC-North Harris, and LSC-Tomball, six centers, LSC-University Park, LSC-University Center at Montgomery, LSC-University Center at University Park, Lone Star Corporate College, and LSC-Online. To learn more visit LoneStar.edu.