Instructing students on how to become effective educators in today's society is one of the main goals for Lone Star College-Kingwood's Teaching Program. Students can earn both their Associate of Arts in Teaching and Bachelor's Degree in Teaching at the community college campus through a joint admissions program with the University of Houston-Downtown.
The program's success earned LSC-Kingwood, LSC-CyFair and UHD the prestigious Texas Higher Education Star Award on Nov. 9. The institutions earned the award for exceptional contribution toward the goals in "Closing the Gaps" in the Higher Education Plan for Texas.
"Winning this award is recognition of the excellence of our education program and of our efforts to create the most seamless path possible to the completion of a bachelor's degree. This is only possible through a partnership with UHD. Their eagerness to address the teacher shortage is a key element in the partnership, along with our ability to provide quality instruction for the first two years of the degree," said Dr. Rebecca Riley, vice president of Instruction. "Our faculty has helped the program grow from just a few students to a healthy program producing many graduates each year."
The star award began in 2001 to recognize educational institutions, groups and individuals for their exceptional contributions toward one or more of the goals of "Closing the Gaps by 2015" in the Higher Education Plan for Texas. The plan's four goals in closing the gap are participation, success, excellence and research. To meet the goals and thus earn the high award, LSC-Kingwood had an outstanding contribution to achieving the goals and targets in "Closing the Gaps," had at least two years of successful outcomes, and had a history of excellence in academic instruction, student support services or partnerships.
"This award was made possible by the hard work and dedication that our faculty and staff put into the program. Their commitment to quality and relationship building with the students is an essential part of the program," said Noel Bezette lead faculty of Education at LSC-Kingwood. "This award is important because it demonstrates that the program is cost-efficient, inclusive and successful."
Lone Star College System's Joint Admissions Program with UHD began in fall 2006 with LSC-CyFair. In the fall of 2007, the program was replicated at LSC-Kingwood. The ultimate goal of this teacher education collaborative is to produce excellent teachers for the local school districts. At Kingwood, the program grew more than 1,000 percent within its first two years. The record growth can be attributed to LSC-Kingwood's and UHD's faculty members working together to create a fluid experience for the students.
"The UHD/LSC-Cy Fair and UHD/LSC-Kingwood partnerships enable the college, the university and the school districts to combine their recruitment and retention efforts, thereby increasing their efficacy while lowering the cost. Each dollar expended by any of the institutions is amplified by three," said Louis Evans, executive director of Distance Education at UHD.
The cost to students who enroll in the LSC-Kingwood/ UHD Joint Admissions Program through the community college and complete their bachelor's degree is $23,000 less than the cost of a course at any four-year public university.
For more information on Lone Star College-Kingwood/UHD Joint Admissions Program contact Noel Bezette at 281-312-1733 or at Noel.C.Bezette@LoneStar.edu.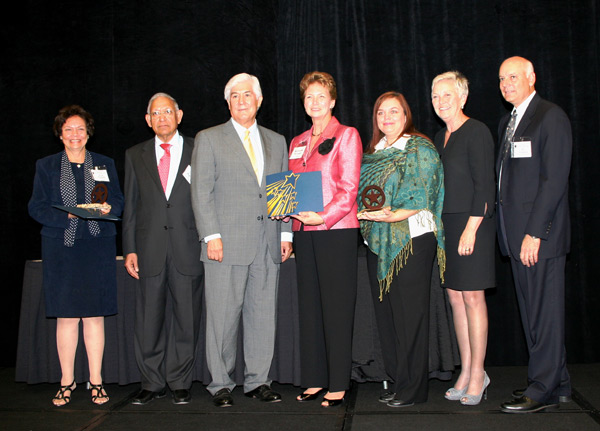 LSC-Kingwood, LSC-CyFair and UHD earned the star award for its joint education program. Proudly displaying their awards are Anne Albarelli, dean of Instruction at LSC-CyFair; Durga D. Agrawal, board member of the Texas Higher Education Coordinating Board; Dr. Raymund Paredes, commissioner of Higher Education; Dr. Katherine Persson, LSC-Kingwood president; Noel Bezette, lead faculty of education/psychology at LSC-Kingwood; Dr. Elizabeth Chapman, dean of Business, Technology and Social Sciences at LSC-Kingwood; and Dr. Bill Coppola, executive director of Academic Partnerships and Initiatives at LSC-Kingwood.
---
Register now for credit classes online through myLoneStar. Classes are offered days, evenings, or weekends in traditional, Internet, video, TV and independent study formats. For more information on how to register online, visit www.myLoneStar.edu/BeReady.
For general information about Lone Star College-Kingwood, call 281-312-1600 or visit http://lonestar.edu/kingwood.htm
With more than 69,000 students in credit classes for fall 2010, and a total enrollment of more than 85,000, Lone Star College System is the largest institution of higher education in the Houston area, and the fastest-growing community college system in Texas. Dr. Richard Carpenter is the chancellor of LSCS, which consists of five colleges including LSC-CyFair, LSC-Kingwood, LSC-Montgomery, LSC-North Harris, and LSC-Tomball, six centers, LSC-University Park, LSC-University Center at Montgomery, LSC-University Center at University Park, Lone Star Corporate College, and LSC-Online. To learn more visit www.LoneStar.edu.