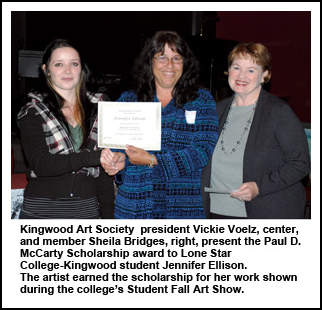 Jennifer Ellison states her family's supportive and creative environment motivated her to pursue a career in art.
"When I was younger, I loved coloring and how-to-draw books, water color sets and others, but I attribute my initial interest in art to my mom, who always made art available to me, and my dad, who had natural ability to draw," Ellison said. "Each year, my mom, brother, sister and I would make homemade Valentine's Day cards; therefore doing crafts was always a part of my childhood."
The Lone Star College-Kingwood student used her imagination and artistic talent when she entered the college's Student Fall Art Show. As one of three finalists, Ellison's out-of-the-box works sparked the interest of the Kingwood Art Society and in turn, it awarded her a $300 scholarship.
The KAS Scholarship Committee has given thousands of dollars in scholarships to students at LSC-Kingwood in the past 10 years. In awarding the Paul D. McCarty Scholarship, judges Sheila Bridges, Pat Conroy and Linda Hamilton carefully went over each submission looking for good composition, contrast of light and dark, artist's use of media, originality and more.
"The committee judged three fantastic artists at LSC-Kingwood's art show, but Jennifer's work stood out. She has a wonderful handle on the basic principles of design, color, lines and composition," Bridges said. "Those qualities demonstrated her ability to take it to the next level. In addition, Jennifer has a very imaginative and creative mind and it is a gift that she uses very well."
Excited and humbled to receive the scholarship, Ellison showed off her creative work to KAS members and expressed strong interest in joining the society. The artist plans to use the money to continue her art education and help pay for related supplies.
"I am in debt to the Kingwood Art Society for their generous scholarship. It seems appropriate to use the money toward my art supplies and tuition next semester in which I will take Painting I with Professor Julon Pinkston," Ellison said. "I plan to join the society as soon as possible. The opportunity to meet regularly with professional artists and receive advice from people I look up to is a dream come true."
At LSC-Kingwood, Ellison is pursuing her Bachelor in Arts degree with a major in studio art and minor in secondary education through a joint admissions program with Sam Houston State University. After she graduates from SHSU, the artist plans to teach and encourage middle and high school art students.
In the last few years, Ellison has created hundreds of pieces ranging from graphite portraits to oil paintings. She has also done many ceramic and block prints. While she enjoys a wide-array of art media, her favorite is creating cartoon paintings.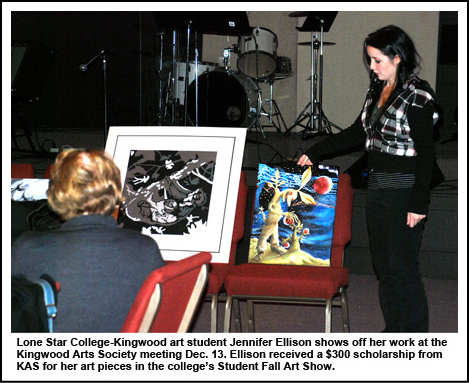 "My cartoon paintings have a story behind them that I come up with as I paint," she said. "My greatest source of inspiration is nature. I also love historical geology as well as studying the origins of the universe. Many of my drawings contain imagery that I associate with planets, stars and distant galaxies."
Ellison credits many people for helping her to cultivate her art. Along with her family, she received encouragement from various teachers and professors through criticism, which helped her to refine her skills and introduced her to new media and methods.
LSC-Kingwood professors Mari Omori, Cory Cryer, Gerard Baldwin and Joe Kagle have been instrumental in Ellison's art education. Omori taught her paper cutting and design elements; Baldwin showed her how to use a three-point perspective; Cryer introduced her to the fundamentals of ceramics, which she used to recreate some of her cartoon characters in 3-D form; and Kagle taught her the art of collage and how it can be used to arrange a composition. At Atascocita Middle School, Ellison learned about chiaroscuro and how to draw from a photograph and at Humble High School, she was taught block printing and how to set up a still life using unconventional items.
Ellison graduated from Hargrave High School in 2006. She is the daughter of Leon and Minnette Ellison and she has two siblings, Julie and Blake. In addition to creating art, she enjoys going on nature hikes and playing the electric bass guitar in a band with her boyfriend Joseph Feagin and friends.
The Kingwood Art Society meets on the third Monday of the month at Christ the King Church in Kingwood. Social hour is at 6:30 p.m. and the meeting and demonstration begins at 7 p.m. Guests are welcome to attend. For more information on KAS, visit its website at http://kingwoodartsociety.com/
---
Register now for credit classes online through myLoneStar. Classes are offered days, evenings, or weekends in traditional, Internet, video, TV and independent study formats. For more information on how to register online, visit www.myLoneStar.edu/BeReady.
For general information about Lone Star College-Kingwood, call 281-312-1600 or visit http://lonestar.edu/kingwood.htm
With more than 69,000 students in credit classes for fall 2010, and a total enrollment of more than 85,000, Lone Star College System is the largest institution of higher education in the Houston area, and the fastest-growing community college system in Texas. Dr. Richard Carpenter is the chancellor of LSCS, which consists of five colleges including LSC-CyFair, LSC-Kingwood, LSC-Montgomery, LSC-North Harris, and LSC-Tomball, six centers, LSC-University Park, LSC-University Center at Montgomery, LSC-University Center at University Park, Lone Star Corporate College, and LSC-Online. To learn more visit www.LoneStar.edu.