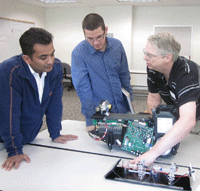 Lone Star College-Tomball will offer two new courses in the spring semester to enhance its Alternative Energy Electrician strand. In addition to Solar Photovoltaic System Electrician, LSC-Tomball will launch Wind Turbine System Electrician on January 18 and Fuel Cell System Electrician in March.
These eight-week "green energy" courses are part of the college's Electrician program. Students who graduate from the Electrician program can earn their certification, and those who pass an alternative energy course can earn a marketable skills award. Though students can choose to take only an alternative energy course, a certified electrician with an alternative energy specialization will be more valuable in the evolving electrical power industry.
"We decided we needed to guide the electricians into an alternative energy program that would expose the students to the possibilities of green energy jobs," said Antonius Bom, Engineering Technology professor at LSC-Tomball.
In the Alternative Energy Electrician courses, students are essentially learning how to harness the power of free, natural resources, such as sunlight, wind and hydrogen, to produce clean, sustainable electricity. According to Bom, the demand for alternative electric power will only continue to rise.
Wind Turbine System Electrician students will eventually build and erect a 26-foot tower with a 650-watt wind turbine on the grounds of LSC-Tomball. Fuel Cell System Electrician students will assemble and operate a 1.2-kilowatt hydrogen-powered fuel cell.
For more information on the Alternative Energy Electrician courses at LSC-Tomball, call 281-357-3702 or e-mail Antonius.L.Bom@LoneStar.edu.
# # #
With more than 69,000 students in credit classes for fall 2010 and a total enrollment of more than 85,000, Lone Star College System is the largest institution of higher education in the Houston area and the fastest-growing community college system in Texas. Dr. Richard Carpenter is the chancellor of LSCS, which consists of five colleges: LSC-CyFair, LSC-Kingwood, LSC-Montgomery, LSC-North Harris and LSC-Tomball; six centers; LSC-University Park; LSC-University Center at Montgomery; LSC-University Center at University Park; Lone Star Corporate College; and LSC-Online. To learn more, visit LoneStar.edu.