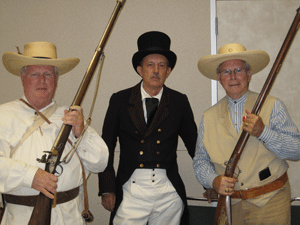 If you are age 50 and over and still love to learn, do not miss the Academy for Lifelong Learning (ALL) Open House. Lone Star College-Tomball (LSC-Tomball) will host the ALL Open House on Thursday, Jan. 27 from 3 to 5 p.m. in the Beckendorf Conference Center. LSC-Tomball will host another one on Tuesday, Feb. 1 from 1:30 to 3:30 p.m. on the third floor of its University Park campus.
A learning organization for individuals age 50 and over, ALL offers non-credit courses, lectures and social activities for both intellectual and personal growth. The curriculum offers a range of instruction depending on the interest of the members. Courses have included Medical Concerns, Tai Chi, Genealogy, Basic Computer Skills and Local History.
At the ALL Open House, guests can meet other individuals with common interests and preview the Spring 2011 course offerings. Interested guests may join the ALL program for a $20 annual fee.
Members of ALL can register for as many courses as they like, both at LSC-Tomball and LSC-University Park. There are no educational requirements. Some courses, however, may require a separate supply, workbook or entry fee, which will be listed in the course schedule.
ALL members help decide future course offerings and help arrange the field trips. They may even teach courses. The membership also includes "benefits" at LSC-Tomball, such as wireless Internet access, gym membership and free theater shows.
LSC-Tomball is located off State Highway 249 and Zion Road. LSC-University Park is located off State Highway 249 and Louetta Road. For more information about the ALL program at LSC-Tomball or LSC-University Park, call 281-357-3676, e-mail tcall@LoneStar.edu or visit LoneStar.edu/ALL-Tomball.
# # #
Pictured at left: Sons of the Republic of Texas teach state and local history at the Academy for Lifelong Learning at Lone Star College-Tomball.

With more than 69,000 students in credit classes for fall 2010 and a total enrollment of more than 85,000, Lone Star College System is the largest institution of higher education in the Houston area and the fastest-growing community college system in Texas. Dr. Richard Carpenter is the chancellor of LSCS, which consists of five colleges: LSC-CyFair, LSC-Kingwood, LSC-Montgomery, LSC-North Harris and LSC-Tomball; six centers; LSC-University Park; LSC-University Center at Montgomery; LSC-University Center at University Park; Lone Star Corporate College; and LSC-Online. To learn more, visit LoneStar.edu.