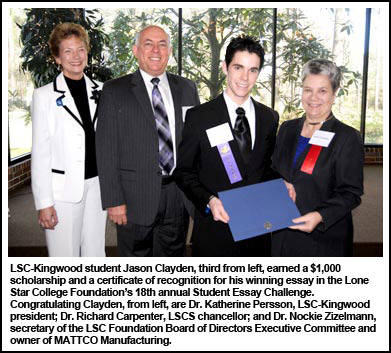 Originally from Pretoria in South Africa, Jason Clayden's journey to the United States of America for a college education meant leaving behind family and friends.
"I visited the United States when my father immigrated, which made the adjustment a lot easier when I came here two years after him. I relished the prospect of beginning a new chapter in my life in a country with so much to offer," Clayden said. "I was looking for an environment where I could explore my full potential. I had no idea what to expect when it came to college learning, so I was constantly running different scenarios in my head of how that might play out."
Prior to immigrating, Clayden applied to the college of Communications at the University of Texas at Austin. Although he was not immediately accepted, he still continued to pursue his dream of earning a college education. Once in the states, he enrolled at Lone Star College-Kingwood in May 2010 because of the flexible programs, beautiful campus, affordable tuition and an array of resources available to each student.
"I enrolled with mixed reservations. I realized that I was receiving a first-world education, but had questioned the quality of community college learning. Would the professors be passionate about their subjects and conscientious of their students in whatever circumstances they are in?" he asked. "At LSC-Kingwood, I soon found that not only were the professors passionate about their subjects, many of them were prepared to assist even beyond the classroom and above their pay-grade. Their sincerity and engaging demeanors are incredible and make them true ambassadors to education."
Clayden penned his experiences in the Lone Star College Foundation's 18th annual Student Essay Challenge. His essay, which earned him a $1,000 scholarship and a certificate of recognition, expressed how the impact of his educational experience at LSC-Kingwood has shaped and directed his life. Other campus essay winners were Dena Horne, LSC-CyFair; Angel Guajardo, LSC-Montgomery; Willicia Toran, LSC-North Harris and Jonas Rodriguez, LSC-Tomball.
"My community college experience has allowed me to be more open and honest with myself and those with whom I interact. I feel more confident in my abilities as a creative individual with high ambitions," he said.
At LSC-Kingwood, Clayden works hard to maintain his 4.0 GPA while starting his own club, Fashionbook. The club's mission is to explore developments in the design industry, current trends, notable designers and recent collections.
Once he completes his core classes, the student plans to attend UT at Austin's Communications program and graduate with a Bachelor of Science degree in Advertising. From there, his goal is to obtain valuable internship opportunities at various advertising agencies such as TBWA Chiat Day and at publishing firms such as Condé Nast in New York.
Clayden resides in Humble with his father, Shaun, stepmother, Karen and brother, Brendan. Living in South Africa are his mother, Rose, and sisters, Jessica and Lauren.
"Although I do not know when I will be able to see my mother again, I hope that the steps that I take in an American college will help me obtain the keys to unlocking the doors of an education; doors that will allow my family and I to be closer to one another in a country where one is not fearful for one's life or loved ones; where uniqueness is embraced and where impossible dreams often hit the shelves."
---
Register now for credit classes online through myLoneStar. Classes are offered days, evenings, or weekends in traditional, Internet, video, TV and independent study formats. For more information on how to register online, visit www.myLoneStar.edu/BeReady.
For general information about Lone Star College-Kingwood, call 281-312-1600 or visit http://lonestar.edu/kingwood.htm
With more than 69,000 students in credit classes and a total enrollment of more than 85,000, Lone Star College System is the largest institution of higher education in the Houston area, and the fastest-growing community college system in Texas. Dr. Richard Carpenter is the chancellor of LSCS, which consists of five colleges including LSC-CyFair, LSC-Kingwood, LSC-Montgomery, LSC-North Harris, and LSC-Tomball, six centers, LSC-University Park, LSC-University Center at Montgomery, LSC-University Center at University Park, Lone Star Corporate College, and LSC-Online. To learn more visit LoneStar.edu.