Students at Lone Star College-Kingwood will get a chance to study the works of two prominent artists this month.
Nathaniel Donnett and Robert Jackson Harrington will showcase their sculpture and mixed media art at the Guest Artist Exhibit Feb. 24-March 24 in the SFA Art Gallery. The show is open to the community and all pieces will be for sale.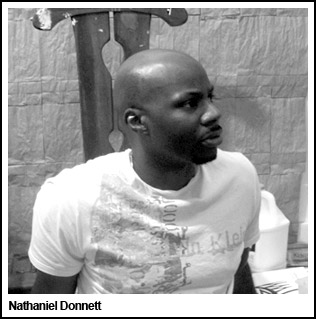 "Like the best musical composers, Nathaniel Donnett and Robert Jackson Harrington toy with our expectations, our sense of balance and our human need for meaning and closure. That is where all similarity ends," said Kris Larson, Art Gallery director. "Robert Jackson Harrington's disciplined and minimalistic sculptures composed of ordinary materials (cables, clamps and more) crackle with color, potential power and implied usefulness. Nathaniel Donnett uses ordinary paper, plastic bags and found objects to evoke cultural clichés and conversations about class systems and standards of beauty."
Donnett, who lives in Houston, studied at Texas Southern University (TSU). He has exhibited in the Armory Show in New York, Exit Art New York, Art Miami, Lawndale Art Center, the National Museum in Lima, the Modern Museum of Peru, Project Row Houses, TSU's Museum, and more as well as participated in a musical performance piece at the Wortham Theater.
"I address social issues and the human condition. My inspiration stems from African American traditions/community, African sculpture, art/art history, music, contemporary culture and general conversations with everyday people," Donnett said. I use traditional and non-traditional materials to allow me to change or rearrange the meanings of the materials and objects."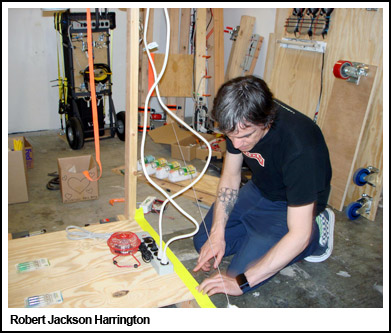 Harrington has received the Outstanding Student Achievement in Contemporary Sculpture award from the International Sculpture Center. He earned his Bachelor of Fine Arts degree from the University of Texas at El Paso and his Master of Fine Arts degree from the San Francisco Art Institute. Currently, he directs the Museum of Pocket Art and is a member of the Center for Experimental Practice. His future exhibition at the Co-Lab in Austin is scheduled to open in late spring 2011. Recent exhibitions include "Material and deStructure: The Creative Alternative in Art" at the PG Contemporary and "Potential Modulations" at the Lawndale Art Center; both are in Houston.
"I create installations from ordinary materials such as clamps, extension cords, lamps, locks, bungee cords, batteries, plywood and lumber. I appropriate theses objects and treat them as purely 'art' material in order to strip them of their cultural and contextual meaning," Harrington said. "This re-contextualization allows me to explore these materials simply as objects in space."
During the Guest Artist Exhibit, Donnett will give an artist talk in the gallery on March 2 at noon. Harrington will give his artist talks on March 7 at 10:30 a.m. and 11:30 a.m. in SFA 125/126.
The SFA Art Gallery hours are Monday through Thursday from 11 a.m.-5 p.m. All gallery events are free and open to the public. For more information on the Nathaniel Donnett and Robert Jackson Harrington exhibitions, contact Kris Larson at 281-312-1534 or via email at KCArtGallery@LoneStar.edu.
---
Register now for credit classes online through myLoneStar. Classes are offered days, evenings, or weekends in traditional, Internet, video, TV and independent study formats. For more information on how to register online, visit www.myLoneStar.edu/BeReady.
For general information about Lone Star College-Kingwood, call 281-312-1600 or visit http://lonestar.edu/kingwood.htm
With more than 69,000 students in credit classes and a total enrollment of more than 85,000, Lone Star College System is the largest institution of higher education in the Houston area, and the fastest-growing community college system in Texas. Dr. Richard Carpenter is the chancellor of LSCS, which consists of five colleges including LSC-CyFair, LSC-Kingwood, LSC-Montgomery, LSC-North Harris, and LSC-Tomball, six centers, LSC-University Park, LSC-University Center at Montgomery, LSC-University Center at University Park, Lone Star Corporate College, and LSC-Online. To learn more visit LoneStar.edu.