Stepping on the court against its first international team, the Lone Star College-Kingwood's Sport Club Basketball Team faced the moment they had been training for. Adding to their long list of wins, the Coyotes defeated the Australian Institute of Sports, 79-71.
According to Head Coach Melvin Marks, due to the Australian's reputation as having a great program, no one expected LSC-Kingwood's team to win.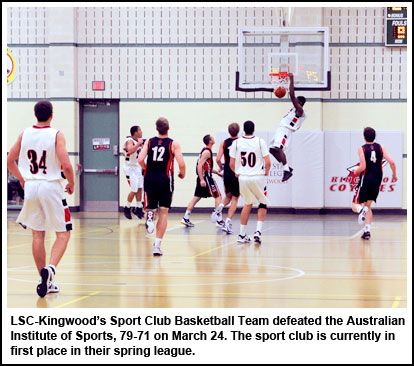 "When the final horn sounded, it was like WOW! This was really a great game and our guys really stepped up. Not one person, friend, relative or others thought that we could win this game, but we proved to them that our program is just as good as the AIS," Marks said.
The opportunity to play an international team was a huge and rare honor for LSC-Kingwood's team. This gave the sport club a chance to make people on campus, in the community, and across the state aware of its outstanding program.
"This particular game brought positive exposure to our sport club program. This was our opportunity to represent our college and the state and to make them aware of what athletic programs we have to offer," Marks said. "If you asked 25 people on campus anything in regard to the basketball team or on any of our sport club teams, 22 of them would say they didn't know that there were sports at this campus."
Along with winning their first international game, LSC-Kingwood's Sport Club Basketball Team has had an exciting 2010-2011 season. They won their fall league championship game and are currently in first place in the spring league. The team also played in its first JUCO Jamboree.
"My players are not only great on the basketball court, but they also know the importance of their education," Marks said. "Every kid on my current roster will earn passing grades for this semester. I am truly proud of them."
Anyone interested in joining the basketball team can contact Melvin Marks at 281-312-1657 or Melvin.L.Marks@LoneStar.edu.
---
Register now for credit classes online through myLoneStar. Classes are offered days, evenings, or weekends in traditional, Internet, video, TV and independent study formats. For more information on how to register online, visit www.LoneStar.edu/registration.
For general information about Lone Star College-Kingwood, call 281-312-1600 or visit http://lonestar.edu/kingwood.htm
With more than 69,000 students in credit classes for spring 2011, and a total enrollment of more than 85,000, Lone Star College System is the largest institution of higher education in the Houston area, and the fastest-growing community college system in Texas. Dr. Richard Carpenter is the chancellor of LSCS, which consists of five colleges including LSC-CyFair, LSC-Kingwood, LSC-Montgomery, LSC-North Harris, and LSC-Tomball, six centers, LSC-University Park, LSC-University Center at Montgomery, LSC-University Center at University Park, Lone Star Corporate College, and LSC-Online. To learn more visit www.LoneStar.edu.