Lone Star College-Kingwood's Drama department invites the entire community to its final production of the semester, "Assassins" April 14-16 at 7:30 p.m. and April 16-17 at 2 p.m. in the college's SFA Performing Arts Theatre.
"'Assassins' is an imaginary meeting of all the famous (or infamous) assassins in American history - the nine people who tried (some succeeded) to shoot presidents of the United States. This musical examines their possible motives, their discontented lives and the hysterical interaction between them," said Eric Skiles, artistic director of the production and Drama chair and professor at LSC-Kingwood.
The 20 member cast and crew consist of 15 LSC-Kingwood students, three former students and two community members. The main characters are Megan Sorely as Sarah Jane Moore, Anthony McMullen as Leon Czolgosz, Kyle Atkinson as Samuel Byck, Daniel Calderon as John Wilkes Booth, Ryan Chambers as Lynette "Squeaky" Fromme, Eric Kosecki as John Hinckley, John Brian Silva as Giuseppe Zangara, Bobby Malbrough as Charles Guiteau, Derek Gaskamp as Lee Harvey Oswald, Amy Fuedo as Emma Goldman. Mitchell Hutchins, Stacey Watts and Kayse Poland are The Balladeers. The Proprietors are played by Tremaine Hall and Brittany Washington. Chorus members are Lucas Farr, Alyssa Jessup, Adelina Velez, Mark C. Connelly and Amber Mckenzie. Along with Skiles, other LSC-Kingwood employees involved are production designer Kalliope Vlahos and musical director Jay Whatley.
According to Skiles, "Assassins", written by Stephen Sondheim, was originally put on stage in 1990. When it debuted on Broadway in 2004, it won several Tony awards including best musical.
"We are thrilled to be presenting such a fascinating, scandalous and hilarious musical for the community. You've never seen anything like it!" Skiles said. "Please come and join us for an evening full of history, thought-provoking action, and beautiful music."
General admission for "Assassins" is $15, seniors are $12 and students pay $5. Tickets will be sold at the door half an hour prior to the show. Proceeds from the event fund the Drama department's scholarships and future productions.
For more information on the production, times, location or pricing, call Jan Schultz at 281-312-1532 or email her at Janet.A.Schultz@LoneStar.edu.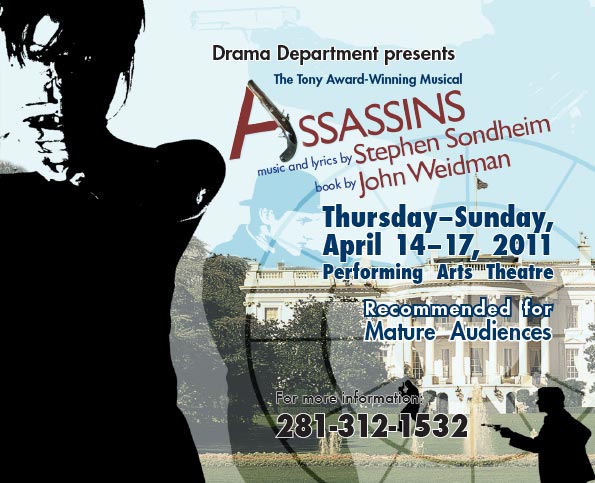 ---
Register now for credit classes online through myLoneStar. Classes are offered days, evenings, or weekends in traditional, Internet, video, TV and independent study formats. For more information on how to register online, visit www.LoneStar.edu/registration.
For general information about Lone Star College-Kingwood, call 281-312-1600 or visit http://lonestar.edu/kingwood.htm
With more than 69,000 students in credit classes for spring 2011, and a total enrollment of more than 85,000, Lone Star College System is the largest institution of higher education in the Houston area, and the fastest-growing community college system in Texas. Dr. Richard Carpenter is the chancellor of LSCS, which consists of five colleges including LSC-CyFair, LSC-Kingwood, LSC-Montgomery, LSC-North Harris, and LSC-Tomball, six centers, LSC-University Park, LSC-University Center at Montgomery, LSC-University Center at University Park, Lone Star Corporate College, and LSC-Online. To learn more visit LoneStar.edu.