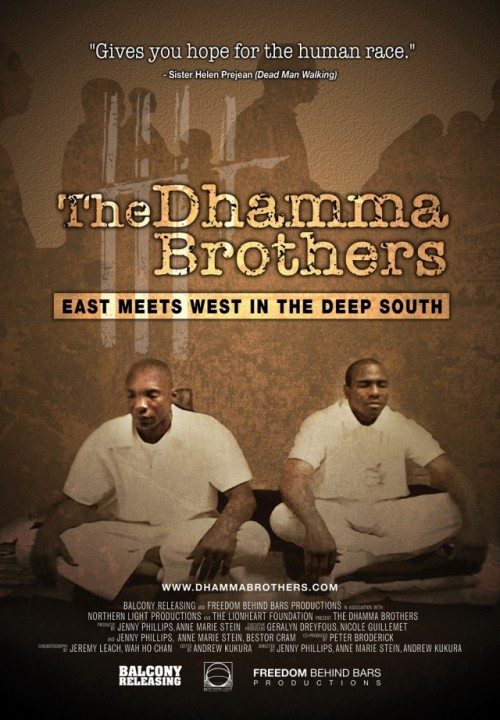 The meditation and yoga club at Lone Star College-Montgomery, Meditators Unite Under Dharma (M.U.U.D), is hosting a free screening of the documentary The Dhamma Brothers, a film that explores the experiences of inmates of a maximum security prison who participate in a ten-day silent meditation retreat. The screening takes place at LSC-Montgomery on Wednesday, April 13, at 6 p.m. in the General Academic Center (Building G, Room 102). The community is invited to attend.
Produced and directed by Jenny Phillips, Ann Marie Stein and Andrew Kukura, The Dhamma Brothers: East Meets West in the Deep South is an award-winning 76-minute film released in 2008. An overcrowded maximum-security prison—the end of the line in Alabama's correctional system—is dramatically changed by the influence of an ancient meditation program. Behind high security towers and a double row of barbed wire and electrical fence dwells a host of convicts locked away from the outside world for life. But for some of these men, a spark is ignited when it becomes the first maximum-security prison in North America to hold an extended Vipassana retreat, an emotionally and physically demanding course of silent meditation lasting ten days.
The Dhamma Brotherstells a dramatic tale of human potential and transformation as it closely follows and documents the stories of the prison inmates at Donaldson Correction Facility who enter into this arduous and intensive program. This film, with the power to dismantle stereotypes about men behind prison bars also, in the words of Sister Helen Prejean (Dead Man Walking), "gives you hope for the human race."
According to Scott Harshbarger, former Attorney General of Massachusetts, "If these program results can be replicated, the human, social and economic costs of incarceration could be dramatically mitigated for all of us." ­
Visit http://www.dhammabrothers.com/ for more information about the documentary. For more information about the M.U.U.D. club at LSC-Montgomery, contact Kathleen Monahan, club advisor and professor of psychology, at (936) 273-7327 or Kathleen.M.Monahan@LoneStar.edu.
LSC-Montgomery is located at 3200 College Park Drive, one-half mile west of Interstate 45, between Conroe and The Woodlands. For more information about the college, call (936) 273-7000, or visit www.LoneStar.edu/montgomery.

With more than 69,000 students in credit classes for spring 2011, and a total enrollment of more than 85,000, Lone Star College System is the largest institution of higher education in the Houston area, and the fastest-growing community college system in Texas. Dr. Richard Carpenter is the chancellor of LSCS, which consists of five colleges including LSC-CyFair, LSC-Kingwood, LSC-Montgomery, LSC-North Harris, and LSC-Tomball, six centers, LSC-University Park, LSC-University Center at Montgomery, LSC-University Center at University Park, Lone Star Corporate College, and LSC-Online. To learn more visit www.LoneStar.edu.