Humble Independent School District's Elementary Fine Arts Department and Lone Star College-Kingwood will sponsor the ninth annual Fine Arts Festival on Saturday, April 30 from 10 a.m.-4 p.m. at the college.
"The Fine Arts Festival is a venue that showcases the creative abilities of Humble ISD and LSC-Kingwood students through musical and dance performances and visual art displays," said Stacia Gower, elementary art facilitator for Humble ISD. "It is also a venue/event that encourages families in Humble, Kingwood and surrounding communities to have fun as they participate in creative activities."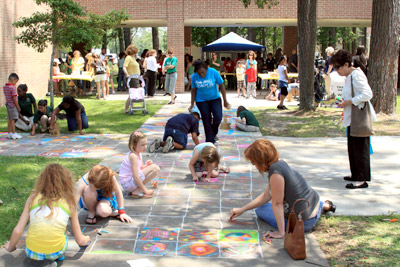 The festival is free and open to the community. One of the main features is the exhibition of art work by elementary, middle, high school and college students. In the college's Fitness and Training Center (FTC), community members will be able to view Humble ISD's Visual Art Year End Competition. As they move around the campus, LSC-Kingwood's Spring Student Art Show will be on display in the Fine Arts Gallery located in the Student Fine Arts (SFA) Building through May 4.
"The festival benefits our students by giving them an opportunity to be recognized for their creative efforts and abilities. It is also an excellent opportunity for our community to see the impact of quality fine arts education programs and to experience the joy of participating in the arts," Gower said.
All art work will be judged and awards will be given to students in elementary through high school including Best of Show and People's Choice, an award given based on the votes of community members attending the festival. On the college level, the annual Spring Student Art show is also independently judged and awards are given to the first, second, third, honorable mention best of show winners.
The festival offers a wide variety of performing arts activities for community members to enjoy. The LSC-Kingwood dance department offers opportunities for everyone to take part in a mini-dance workshop where they can experience some dance techniques, learn a few steps and watch as LSC-Kingwood students demonstrate their dance talent. This will take place in the dance studio located in the FTC building.
In addition to Humble ISD's 26 elementary schools being represented with the visual arts, each elementary school will also have a group of students performing a myriad of music in SFA throughout the entire day. LSC-Kingwood music students will also perform.
Outside of the visual and performing arts, the young and young-at-heart will have a chance to participate in many of the Creation Stations that will be located in the FTC. This year, patrons will be able to create art at 15 different booths that include silly hats, origami, collage, bedazzled sun catchers, art cars, marbleized cloth bags, fun clay sculptures and more.
"The incorporation of visual and performing arts allows people to see and hear all of the talent that we have within the local community in a family-friendly environment," said Jan Schultz, special events coordinator at LSC-Kingwood. "This festival also gives visitors an opportunity to visit our growing campus."
Although the event is free to attend, it is still a fundraiser for the school district and college. Fall Creek Chick-fil-A will run the food concession booth and the proceeds will go toward Humble ISD's Education Foundation. Patrons are encouraged to visit and purchase items at the Scholastic Book Fair, which will benefit Humble ISD and LSC-Kingwood's fine arts scholarship fund.
"We believe it is important for families to spend time together and to experience the fine arts in an interactive venue. Although Houston has many wonderful fine arts venues and events, the festival offers an opportunity to experience and actively participate in the arts free of charge and close to home. It is an event that has no age requirement or limit," Gower said.
There will also be a silent auction that will help sustain funds for next year's event. The auction will feature sports memorabilia, original art, gift baskets, services and gift items donated by local businesses and organizations. Items up for auction include a signed football from the Houston Texans, boy's and girl's bicycles, a gift certificate for a student art class at the Glassell Art School, Houston Astros tickets and more.
The Humble ISD's Elementary Art Department's vision started the Fine Arts Festival nine years ago. With the event's fast growth, the school district entered into a partnership with LSC-Kingwood. Since then, it has grown into a multi-faceted event that highlights students' fine arts talents. The attendance averages between 4,000 and 5,000 people.
For more information on the Fine Arts Festival, contact Jan Schultz at 281-312-1532 or Stacia Gower at 281-641-8603.
---
Register now for credit classes online through myLoneStar. Classes are offered days, evenings, or weekends in traditional, Internet, video, TV and independent study formats. For more information on how to register online, visit www.LoneStar.edu/registration.
For general information about Lone Star College-Kingwood, call 281-312-1600 or visit http://lonestar.edu/kingwood.htm
With more than 69,000 students in credit classes for spring 2011, and a total enrollment of more than 85,000, Lone Star College System is the largest institution of higher education in the Houston area, and the fastest-growing community college system in Texas. Dr. Richard Carpenter is the chancellor of LSCS, which consists of five colleges including LSC-CyFair, LSC-Kingwood, LSC-Montgomery, LSC-North Harris, and LSC-Tomball, six centers, LSC-University Park, LSC-University Center at Montgomery, LSC-University Center at University Park, Lone Star Corporate College, and LSC-Online. To learn more visit www.LoneStar.edu.