What started off as a routine project for Lone Star College-Kingwood's Occupational Therapy Assistant (OTA) and Associate Degree Nursing (ADN) students turned into a winning combination.
During the spring semester OTA students, who are close to completing their program, are charged with teaching first semester nursing students about body mechanics. In return for the first time, ADN students taught OTA students about perineal care. This collaboration earned the healthcare disciplines the college's annual Innovators of the Year award.
"Every spring my OTA students get a chance to teach new nursing students how to move patients properly without hurting the patients or themselves," said Linda Gallander, OTA professor. "This year, I wanted the ADN department to teach my students about something they will need to know during their clinicals and when they enter the workforce."
In learning about body mechanics, OTA students demonstrated the right and wrong ways on how to move a patient from their bed to a gurney or to a wheelchair.
"Our mission was to show them how to successfully transfer a patient without injuries," said OTA student Hector Toro. "It was good to show them how our program can benefit them."
Once the lesson was taught, ADN students applied what they learned by doing demonstrations with their peers.
"This training allowed me to learn different techniques that will provide better healthcare to my future patients," said nursing student Kristy Bailey. "I think it was a great experience to interact and learn from the OTA students and I look forward to working with other healthcare departments."
New ADN students were asked to return the favor and teach the OTA students, about perineal care, which is how to properly address patients' personal hygiene in a private manner.
"The nursing students were asked to determine the learning needs of the OTA students and to develop a teaching session. The results of their research led to the development of an assessment tool and to the creation of the program," said Diane Langton, Nursing professor at LSC-Kingwood.
The 30-minute program addressed OTA students' concerns on perineal care by using visual aids, participating in hands-on interaction exercises and talking candidly during the question and answer session. According to the nursing students, teaching OTA students provided them with a chance to learn more about the other healthcare department.
"This project was a great experience for us. It allowed us (ADN students) to work together to develop an informative program for OTA. It also got us used to working with students in other healthcare programs just like we will have to do in the workforce," said nursing student Brian Beresford.
For OTA students, learning how to respect a patient's privacy when it comes to their personal hygiene was something they were interested in. They remarked that the ADN students' program answered their questions and calmed their concerns.
"We were truly grateful for the training because eventually this is something that we will face in our careers," said Lisa Maranto, OTA student. "This training taught us how to deal with this issue while maintaining our patients' privacy and care."
According to Gallander and Langton, the ultimate goal is that the students continue the positive relationship that they developed with each other once they enter the workforce.
For more information on the ADN program, visit http://lonestar.edu/nursing-aas.htm. Additional information on the OTA program can be found at http://lonestar.edu/occupational-therapy-dept-kingwood.htm.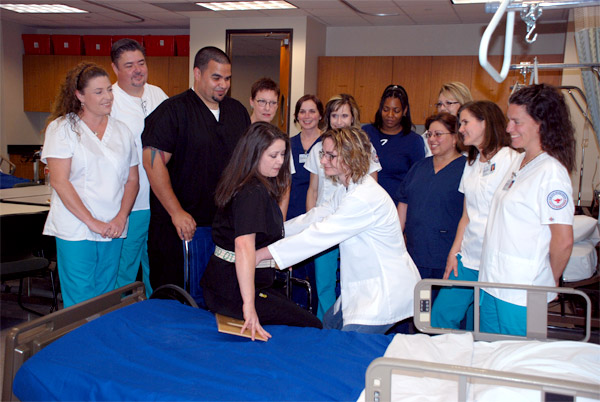 Collaboration between LSC-Kingwood's OTA and ADN departments earned both the Innovators of the Year award. Pictured centered are OTA students Hector Toro and Lisa Maranto, (both in dark scrubs), demonstrating proper body mechanic techniques with ADN student Ashley Anderson. Watching the demonstrations are ADN students (white scrubs) Tammy Weidner, Brian Beresford, Virginia Mercado, Amy Owens, Kristy Bailey, Sandra Cason and Alisa Schumacher and OTA students (dark scrubs) Brenda Hulse, Elizabeth Robledo and Andrea JohnBaptiste.
---
Register now for credit classes online through myLoneStar. Classes are offered days, evenings, or weekends in traditional, Internet, video, TV and independent study formats. For more information on how to register online, visit www.lonestar.edu/registration.
For general information about Lone Star College-Kingwood, call 281-312-1600 or visit http://lonestar.edu/kingwood.htm
With more than 69,000 students in credit classes for spring 2011, and a total enrollment of more than 85,000, Lone Star College System is the largest institution of higher education in the Houston area, and the fastest-growing community college system in Texas. Dr. Richard Carpenter is the chancellor of LSCS, which consists of five colleges including LSC-CyFair, LSC-Kingwood, LSC-Montgomery, LSC-North Harris, and LSC-Tomball, six centers, LSC-University Park, LSC-University Center at Montgomery, LSC-University Center at University Park, Lone Star Corporate College, and LSC-Online. To learn more visit www.LoneStar.edu.