Life saving techniques can now be accessed easily through the Respiratory Refresher mobile application (app) that was designed by Lone Star College-Kingwood students.
Game Design and Simulation students were approached by the Respiratory Therapy department in spring 2011 to design a free app that healthcare professionals can download to their mobile device.
"I searched for an app for Android or Apple that addressed respiratory care needs, but I didn't find one. I thought it would be great if we had our students to design one that can be used by practitioners in the workforce," said Gary Wynne, assistant professor of Respiratory Care at LSC-Kingwood.
Caroline Chamness, Game Design and Simulation professor, approached her students with the idea of developing an app. Students Caleb Ray and Christian Schwartz quickly accepted the challenge. Soon, their creation will be available for download to iPhone, iPad and iPod Touch.
"We did not have any experience in mobile applications, but we jumped at the opportunity to learn how to make one. We were excited to be a part of this project because this is the future," said Schwartz, who is majoring in Program Design.
Ray, who is studying Simulation Programming, said that learning new computer languages in previous classes helped them develop this refresher app.
"The general idea was quickly decided, but it took us a month and a half to actually design it. Even though we didn't have any previous knowledge, we did a lot of research in the library and looked at different websites, like YouTube, to get a better idea of what we needed to do to make this project a success," Ray said. "This was a worthwhile experience for us."
The students' hard work and willingness to learn earned them a paid internship for the summer at Rice University's Center for Technology in Teaching and Learning.
The Respiratory Refresher app includes pulmonary assessments ranging from the Glasgow Coma Scale to respiration patterns. Also included are sections detailing temperature, height and weight conversions, as well as information on medical gas therapy.
The Respiratory Care program prepares Associate of Applied Science graduates to be competent in delivery of therapeutic procedures in acute care settings, in performing diagnostic procedures, and in assisting the physician in cardiopulmonary services. For more information or to apply at the new location at LSC-North Harris, call Kenny McCowen at 281-312-1608 or email Kenny.P.McCowen@LoneStar.edu.
Anyone interested in learning more about the Game Design and Simulation Program at LSC-Kingwood can email Caroline.M.Chamness@Lonestar.edu.
To view the free app online, visit http://itunes.apple.com/hk/app/respiratory-refresher/id430683633?mt=8.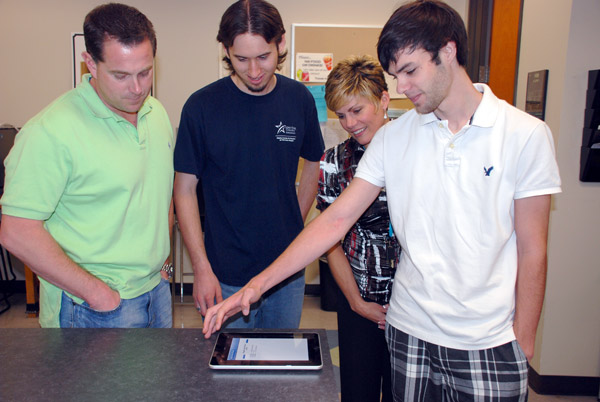 LSC-Kingwood students Caleb Ray, second from left, and Christian Schwartz, far right, demonstrate the free Respiratory Refresher mobile application that they created to professors Gary Wynne, far left, and Caroline Chamness.
---
Register now for credit classes online through myLoneStar. Classes are offered days, evenings, or weekends in traditional, Internet, video, TV and independent study formats. For more information on how to register online, visit www.lonestar.edu/registration.
For general information about Lone Star College-Kingwood, call 281-312-1600 or visit http://lonestar.edu/kingwood.htm
With more than 69,000 students in credit classes for spring 2011, and a total enrollment of more than 85,000, Lone Star College System is the largest institution of higher education in the Houston area, and the fastest-growing community college system in Texas. Dr. Richard Carpenter is the chancellor of LSCS, which consists of five colleges including LSC-CyFair, LSC-Kingwood, LSC-Montgomery, LSC-North Harris, and LSC-Tomball, six centers, LSC-University Park, LSC-University Center at Montgomery, LSC-University Center at University Park, Lone Star Corporate College, and LSC-Online. To learn more visit www.LoneStar.edu.