Need a Summer Massage? Or Want to Become a Massage Therapist? LSC-CyFair is the Place to Be!
Published on: May 18, 2011
Whether you're interested in a rewarding career as a Massage Therapist or just stressed out and need a massage, Lone Star College-CyFair can help.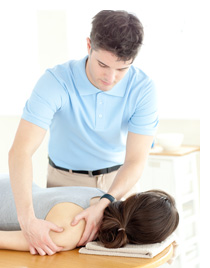 "The students in our Massage Therapy Program invite you to relax, recharge and relieve pain or stress this summer for the unbeatable price of $25," said Continuing Education (CE) Director Kenya White. "Each session is customized and quality is guaranteed as our students have completed 500 hours of training in various bodywork techniques and they are excited to share their knowledge to our community."
One-hour massages will be offered Monday through Thursday from 8 a.m. to 8 p.m. starting May 23 through Aug. 11. Call 832.482.1022 to schedule an appointment.
"Are you looking for a new career? You can become a massage therapist in a spa/fitness center or even to start your own practice in less than a year as LSC-CyFair's Massage Therapy Program prepares students to achieve national certification," said White.
Through this CE program, massage therapy students learn business practices and professional standards as well as health and hygiene in massage and more. Students also receive training to gain a healthy, stress-free lifestyle with basic massage techniques and therapy continuing education courses. Among the program admission requirements are: Be at least 18 years of age; hold a high school diploma or GED; have no criminal record within the last five years and be in good general health.
The next information session at LSC-CyFair for Massage Therapy and other CE health occupations will be held June 16. Go online to LoneStar.edu/massage-therapy or call Autumn Raynor at 281.290.5242 for fall program and registration information.