With the drought and summer heat wreaking havoc in communities across the state, professional firefighters are in hot demand.
To acquire skills needed to protect and serve the community, Lone Star College-Kingwood's Fire Science Program will teach students how to become state certified firefighters and EMS personnel through various on-campus and off-campus courses and clinicals.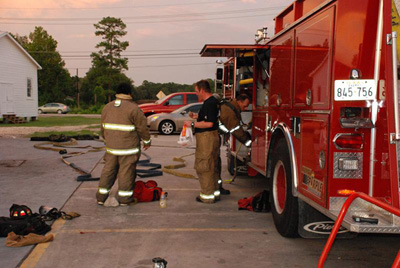 "The purpose of the program is to earn a Basic Structural Firefighter certification. At minimum, all professional firefighters in Texas must be certified as a basic structural firefighter," said Tim Gibson, Fire Science adjunct faculty member at LSC-Kingwood. "This combined with an EMS certificate from the Texas Department of State Health Services will allow them to become a paid firefighter."
Students and community members, who are interested in learning more about the program, are invited to attend two Fire Science information sessions on Thursday, July 21 from 1-3 p.m. and on Tuesday, Aug. 2 from 5-7 p.m. in CLA 214. Both sessions are free and will outline the program's objectives, admission prerequisites, physical requirements, curriculum and more. The main focus will be on preparing the students for the program and in particular, the Basic Structural Fire Academy.
The EMT basic class is the first course in the National Registry of Emergency Medical Technician (NREMT) curriculum that will lead to a certification in EMT Paramedic. Students will complete lecture and skills training that will prepare them for clinical rotations. They will attend classes on campus and then participate in clinicals at sites such as hospital emergency rooms and 9-1-1 EMS ambulance services. During the program, they will have an opportunity to work with nurses, EMTs and paramedics to hone the skills they have learned.
For prospective students who want to work as a professional firefighter in Texas, this class completes the emergency medical services training required to become a certified firefighter. Upon completion of this class, students are eligible to take the NREMT test to become nationally certified. To earn their Basic Structural Firefighter certification, students must enroll in, and complete, the fire academy which is two semesters (26 hours) at LSC-Kingwood.
"The job market for firefighters has a constant demand. The market has continuous openings with Texas Forest Service as well as the major metropolitan cities such as Houston, Dallas, San Antonio and Austin. The smaller, faster-growing suburban cities have a rising demand for skilled, certified firefighters to fill their staff," Gibson said. "The market in these suburbs has a high demand for entry level firefighters."
Certification earned in the college's Fire Science program will transfer to anywhere in the state of Texas as a career firefighter. Students may also use their certification to get jobs in other states. In addition to the certification, students can also earn their Associate of Applied Science degree in Fire Science Technology, at LSC-CyFair or LSC-Montgomery, which will help them advance in today's job market.
Potential students interested in enrolling in the program to begin their EMT basic class this fall must meet admissions requirements to the college in addition to a vaccination prerequisite. For more information on the program, admission requirements, mandatory inoculations, cost and more call 281-312-1567 or visit http://www.lonestar.edu/fire-science-dept.htm
---
Register now for credit classes online through myLoneStar. Classes are offered days, evenings, or weekends in traditional, Internet, video, TV and independent study formats. For more information on how to register online, visit www.lonestar.edu/registration.
For general information about Lone Star College-Kingwood, call 281-312-1600 or visit http://lonestar.edu/kingwood.htm
With more than 69,000 students in credit classes for spring 2011, and a total enrollment of more than 85,000, Lone Star College System is the largest institution of higher education in the Houston area, and the fastest-growing community college system in Texas. Dr. Richard Carpenter is the chancellor of LSCS, which consists of five colleges including LSC-CyFair, LSC-Kingwood, LSC-Montgomery, LSC-North Harris, and LSC-Tomball, six centers, LSC-University Park, LSC-University Center at Montgomery, LSC-University Center at University Park, Lone Star Corporate College, and LSC-Online. To learn more visit www.LoneStar.edu.