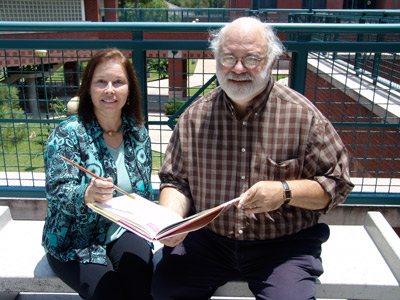 Students can enrich their sensibilities and stir up their creative and literary gifts through a unique art and literature learning community offered this fall at Lone Star College-Montgomery. Building on the same interdisciplinary class that took place the previous three fall semesters, award-winning professors Ron Heckelman and Denise Lorenz are partnering once again to offer students a distinct opportunity to discover how deeply literature and art are culturally connected.
Heckelman, professor of English, and Lorenz, professor of art, have combined English 2332 (World Literature) and Arts 1301 (Art Appreciation) into a learning community, a set of courses focused on a common theme that allows students to gain a deeper understanding of each discipline and how they are connected. Students earn the usual amount of credits for each course, which are offered back to back with the same students in each class.
"This learning community has been very successful the past three years," said Lorenz. "It is an exciting class to teach."
"Art history and literature classes have been combined before, but including hands-on art projects makes this particular learning community special," said Heckelman. "Linking the studio projects with the traditional art history and literature represents what interdisciplinary education is all about."
In this learning community, students work on personal art projects that relate to the historical and cultural background of the literature they read. More than 20 students participated last fall, and it proved to be an informative, inspirational, and rewarding experience.
Former LSC-Montgomery and current Trinity University student Kayleigh Overman has studied literature before, but felt the class provided her a more well rounded look into the subject of art.
"As an English major, I tend to understand the written word better than art, but this class showed me a deep correlation between the two and put art into a new context," said Overman. "It was fun and engaging, and I would definitely recommend it to other students."
Hands-on activities, group discussions, writing and reading assignments, and a class field trip to the Houston Museum of Fine Arts provide students a chance to work together and realize the harmonious relationship between the two subjects. In the class, students learn to view poetry and other literature as works of art and in turn, see artwork as having a deep connection to history and culture.
Although the course involves many hands-on art projects like painting or clay formation, having a background in art is not a prerequisite for the class.
"During the fall, students were reluctant at first with their art projects," said Lorenz, "but once they understood they were not being graded as artists, they were freed and seemed to excel in all their works. We had some students with non-artist backgrounds create some beautiful works."
Heckelman and Lorenz work to vary the class topics and daily structure. During one class, after studying the role of masks in African poetry, religion, and art, students created their own individual, cross-cultural masks.
"Creating the masks led into an unexpected, self-reflective discussion on identity and role-playing, not only in literature, but in our daily lives," said Heckelman.
The art and literature learning community will meet on Tuesdays and Thursdays from 11:30 a.m.-2:20 p.m. with a short lunch break included. Spaces are limited for these classes, so prospective students should register as soon as possible to guarantee a spot. The fall semester begins on Monday, August 29.
For more information about the art and literature learning community offered this fall, please contact Ron Heckelman at
ronh@lonestar.edu
or Denise Lorenz at
denise.a.lorenz@lonestar.edu
.
LSC-Montgomery is located at 3200 College Park Drive, one-half mile west of Interstate 45, between Conroe and The Woodlands. For more information about the college, call 936.273.7000, or visit www.LoneStar.edu/montgomery.

With more than 69,000 students in credit classes for fall 2010, and a total enrollment of more than 85,000, Lone Star College System is the largest institution of higher education in the Houston area, and the fastest-growing community college system in Texas. Dr. Richard Carpenter is the chancellor of LSCS, which consists of five colleges including LSC-CyFair, LSC-Kingwood, LSC-Montgomery, LSC-North Harris, and LSC-Tomball, six centers, LSC-University Park, LSC-University Center at Montgomery, LSC-University Center at University Park, Lone Star Corporate College, and LSC-Online. To learn more visit LoneStar.edu.