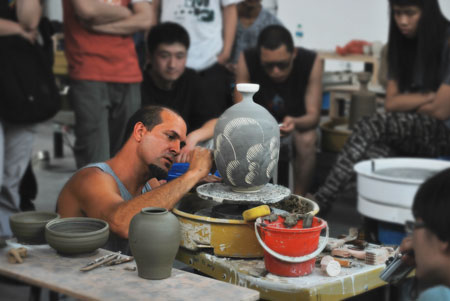 More than 10,000 miles around the world, Robby Wood, ceramics professor at Lone Star College-Montgomery, recently conducted a pottery demonstration for members of The Pottery Workshop, an international ceramics center located in Jingdezhen, China.
Folks from all over the world—Japan, London, New Zealand, Switzerland, Sweden, and even New York—attended Wood's workshop held in May.
"I was the first demonstrator offering a hands-on workshop in a series devoted to teaching students, staff, and community members a loose, Western ceramics approach versus the more tightened Chinese method," said Wood, who has been teaching at LSC-Montgomery since 2002. "The students had fun and got what I showed them."
Known as the "Porcelain Capital," Jingdezhen, located in Jiangxi Province in China, has been producing quality pottery for more than 1,700 years. The Pottery Workshop, which has other locations in Beijing, Hong Kong, and Shanghai, offers experiential learning and resources for the development and enrichment of ceramics in China and abroad.
Although Wood often lectures, teaches, or even entertains from his pottery wheel outside the ceramics lab at LSC-Montgomery, this was the first time for him to lead a workshop outside the U.S. His friend and former student Eric Kao, however, is the deputy director of The Pottery Workshop at Jingdezhen and helped place Wood in the international educator role.
While translators were on-hand, Wood said that language was not an issue during his demonstration.
"They didn't have translations for some of my colloquialisms, so I drew a lot of pictures," said Wood. "I hardly understood a word they said, but it wasn't needed for what we did."
While there, Wood also participated in The Pottery Workshop's artist residency program where he created "lots and lots of pots" while experiencing life in Jingdezhen.
"The food was great and the locals were amazing," said Wood. "I even got to watch a kiln get fired with tires. Yep, tires—from mopeds. It smelled wonderful."
At LSC-Montgomery, Wood teaches Ceramics I (ARTS 2346) and Ceramics II (ARTS 2347). He is also the advisor for the LSC-Montgomery Clay Club, which hosts monthly pottery sales on the first Thursday of each month.
For more information, contact Robby Wood at
Charles.R.Wood@LoneStar.edu
or 936.273.7064.
LSC-Montgomery is located at 3200 College Park Drive, one-half mile west of Interstate 45, between Conroe and The Woodlands. For more information about the college, call 936.273.7000, or visit www.LoneStar.edu/montgomery.

With more than 69,000 students in credit classes for fall 2010, and a total enrollment of more than 85,000, Lone Star College System is the largest institution of higher education in the Houston area, and the fastest-growing community college system in Texas. Dr. Richard Carpenter is the chancellor of LSCS, which consists of five colleges including LSC-CyFair, LSC-Kingwood, LSC-Montgomery, LSC-North Harris, and LSC-Tomball, six centers, LSC-University Park, LSC-University Center at Montgomery, LSC-University Center at University Park, Lone Star Corporate College, and LSC-Online. To learn more visit LoneStar.edu.