Helping people protect their smiles and health are two of the main goals of a dental hygienist.
At Lone Star College-Kingwood, students in the Dental Hygiene program are trained to become a dental hygienist through the classroom and clinical work at the campus' state-of-the-art Dental Hygiene Clinic.
"Graduates of the program are prepared to go into a dental office and work as a dental hygienist," said Maribeth Stitt, Dental Hygiene professor at LSC-Kingwood. "The students will learn everything from the relationship that the mouth has to the rest of the body to how to teach a patient to take care of his or her own mouth, to placing preventive sealants and cleaning teeth."
Anyone interested in learning more about this program is invited to attend a Dental Hygiene Information Session on Sept. 20 at 5 p.m. in HSB 107. The purpose of the session is to provide information about the program as well as information about applying to the program. The information session offers a great deal of information and gives potential applicants an opportunity to ask questions.
Prior to applying to the dental hygiene program, students are first required to complete a variety of prerequisite courses such as chemistry, anatomy and physiology, English and sociology. These courses must be completed by the end of fall 2011 if the student wishes to apply to the Dental Hygiene program for the fall 2012.
In the program, students receive instruction in hand and ultrasonic instrumentation, fluorides, non-surgical periodontal therapy, oral hygiene instructional education, traditional and digital radiography, current uses of dental materials and dental software technology within the dental setting.
"This program will not only provide students the necessary skills to become a registered dental hygienist, it will also prepare them to take and pass multiple board exams," Stitt said. "The program has an incredible full and part time faculty who give above and beyond the amount of time and effort to help the students to be successful."
Once courses are completed, students are prepared to take the National Board Dental Hygiene Exam, the Western Region Clinical Board Process of Care exam and the Western Region Clinical Board live patient clinical exam. Graduating from the program and completing these exams with a passing grade is required in order to be eligible for licensure and become a Registered Dental Hygienist. Since the program began in 2006, every graduate has passed all required board exams.
For additional details on the information session or on the Dental Hygiene program, contact Maribeth Stitt at Maribeth.W.Stitt@Lonestar.edu or visit http://lonestar.edu/dental-hygiene-dept-kingwood.htm.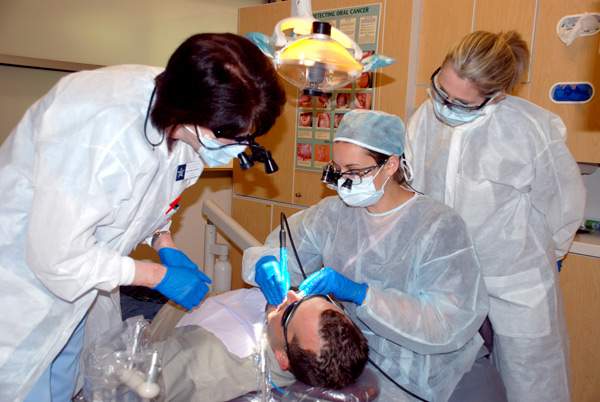 LSC-Kingwood's Dental Hygiene program will host an information session on Sept. 20 at 5 p.m. in HSB 107. For more information, call 281-312-1517.
---
Register now for credit classes online through myLoneStar. Classes are offered days, evenings, or weekends in traditional, Internet, video, TV and independent study formats. For more information on how to register online, visit www.lonestar.edu/registration.
For general information about Lone Star College-Kingwood, call 281-312-1600 or visit http://lonestar.edu/kingwood.htm
With more than 69,000 students in credit classes for spring 2011, and a total enrollment of more than 85,000, Lone Star College System is the largest institution of higher education in the Houston area, and the fastest-growing community college system in Texas. Dr. Richard Carpenter is the chancellor of LSCS, which consists of five colleges including LSC-CyFair, LSC-Kingwood, LSC-Montgomery, LSC-North Harris, and LSC-Tomball, six centers, LSC-University Park, LSC-University Center at Montgomery, LSC-University Center at University Park, Lone Star Corporate College, and LSC-Online. To learn more visit http://www.lonestar.edu/.