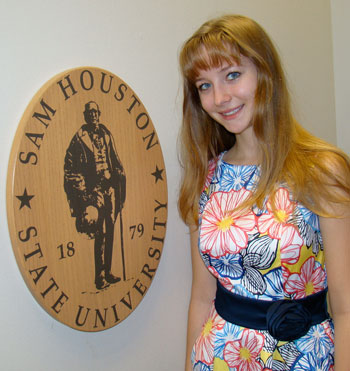 In banking, it all boils down to dollars and cents, and Anya Povarenkina, who graduated from Lone Star College-Montgomery in May, knows this first-hand.
Povarenkina is the recipient of Sam Houston State University's Smith-Huston Banking Scholarship, a $28,000 award provided each spring to one LSC-Montgomery student who plans to major in banking. She begins her studies at SHSU this month, working toward a double business major in banking and finance.
"This is really a great opportunity," said Povarenkina. "I'll take 30 hours a year and follow the GPA requirements. The scholarship will cover my tuition, housing, and partially my food."
The Smith-Hutson Banking Scholarship is one of many unique partnerships between LSC-Montgomery and SHSU. Secured years ago with the help of James Zipperer, professor of economics at LSC-Montgomery, and Dr. Jim Bexley, the endowed chair of banking at SHSU, the scholarship has allowed 10 LSC-Montgomery students to graduate from SHSU and pursue a career in the banking/finance industry.
"SHSU's banking program is the premier banking program in the nation and just one of a few universities that even offer banking degrees," said Zipperer. "This scholarship is a chance for students at LSC-Montgomery to continue on in a leading program at a leading university."
Povarenkina is an 18-year-old international student from Russia who came to America just two years ago. Despite language and cultural barriers (she had to learn to drive a car on American roads), Povarenkina found great professors and small classes at LSC-Montgomery that helped her transition into a highly successful student.
Upon graduation, Povarenkina was a member of Phi Theta Kappa, the college's honor society; was a tutor Extended Learning Center; took part in the Second Amendment Club; and graduated as an honor's scholar.
"All the professors tried to make each class interesting and really cared about my success," said Povarenkina. "They taught me great writing skills, which were weak when I first came here. I even had one professor tell me my essay could be used as an admissions essay to law school."
Povarenkina's hard work and great accomplishments were kindled at LSC-Montgomery, but also seem to be an innate part of her and her family. Her older sister, Tatyana Povarenkina, graduated from LSC-Montgomery with highest honors in 2004 and went on to graduate Summa Cum Laude from SHSU. Tatyana is now a certified public accountant (CPA) in Chicago.
Hoping to follow in her sister's footsteps, Povarenkina plans to eventually pursue a master's degree in accounting and become a CPA.
"I'm interested in working in a consulting firm, as there are more opportunities to travel," Povarenkina said. "Plus, from what I've heard, you can build your career faster there."
"But really, I'm not focusing too much on what will happen two to three years away," she added. "For now, I like my life and am excited for what's going on. "
LSC-Montgomery is located at 3200 College Park Drive, one-half mile west of Interstate 45, between Conroe and The Woodlands. For more information about the college, call 936.273.7000, or visit www.LoneStar.edu/montgomery.

With more than 69,000 students in credit classes for fall 2010, and a total enrollment of more than 85,000, Lone Star College System is the largest institution of higher education in the Houston area, and the fastest-growing community college system in Texas. Dr. Richard Carpenter is the chancellor of LSCS, which consists of five colleges including LSC-CyFair, LSC-Kingwood, LSC-Montgomery, LSC-North Harris, and LSC-Tomball, six centers, LSC-University Park, LSC-University Center at Montgomery, LSC-University Center at University Park, Lone Star Corporate College, and LSC-Online. To learn more visit LoneStar.edu.