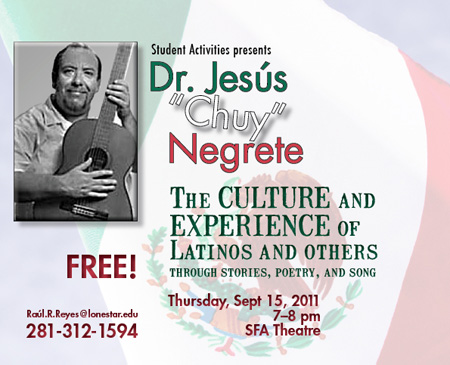 With a harmonica and a guitar, Dr. Jesús "Chuy" Negrete will tell 500 years of Mexican American History at Lone Star College-Kingwood.
In celebration of Mexican Independence Day, the general public is invited to attend Negrete's "The Culture and Experience of Latinos and others through Stories, Poetry and Song" on Thursday, Sept. 15 at 7 p.m. in LSC-Kingwood's Performing Arts Theatre. This event is free.
"My performance reflects the study that I've done of more than 1,000 Mexican American laborers in the Carolinas, El Paso and New Mexico. I am telling their stories of what they endured through the music that they created," Negrete said.
As a musicologist for 45 years, Negrete has done active research into the workers' lives and conditions. Since this type of music is not readily known, Negrete performs in many cities around the country and is a visiting Mexican American music professor at various colleges, including the University of Houston.
"My goal in touring, performing and teaching is to get people to have a more profound look at the type of music that the workers created. Too often, when many people think about Mexican music, they always think about Mariachi or Lambada, and that is not the case," he said. "I want to give people a sample of Mexican history, culture and feelings through this type of song."
According to Dr. Raúl Reyes, history professor at LSC-Kingwood, the audience can expect to be entertained by Negrete, who is also known as the Chicano Woody Guthrie. The musicologist chronicles the history of Mexico in balladry and poetry while performing melodiously with music instruments and visual pictorial imagery that will appeal to all.
"Certainly audience members will be able to identify with the presentation which carries a central theme of empowerment and the strength of human spirit to overcome," Reyes said. "Audience members will come away entertained, since Dr. Negrete effectively uses musical 'call and response' expertise to engage attendees in what generally becomes a lively presentation that people should not want to pass up."
Reyes goes on to say that this celebratory performance does not only recognize Mexican History, but the college's mission to embrace diversity.
"The event represent another example of system sensitivity to create an inclusive and embracive learning environment especially given the current, and not to mention projected, demographic trends of our system and the greater Houston metropolis," Reyes said. "We hope the public will come out and enjoy an evening of free entertainment."
Negrete is the founder and director of the Mexican Cultural Institute. In addition to his doctoral degree from the University of California-Berkeley, he earned degrees from the University of Illinois at Chicago and Chicago State University with specialties in educational anthropology and ethnomusicology. He is also a Smithsonian and Bannerman Fellow for his work in reaching, studying and living among the indigenous immigrant non-Spanish speaking populations in Mexico.
For more information on Negrete's performance, contact Reyes at 281-312-1594 or Raúl.R.Reyes@LoneStar.edu. For additional details on the performer, visit http://www.speakoutnow.org/userdata_display.php?modin=50&uid=102.
---
Register now for credit classes online through myLoneStar. Classes are offered days, evenings, or weekends in traditional, Internet, video, TV and independent study formats. For more information on how to register online, visit www.lonestar.edu/registration.
For general information about Lone Star College-Kingwood, call 281-312-1600 or visit http://lonestar.edu/kingwood.htm
With more than 69,000 students in credit classes for spring 2011, and a total enrollment of more than 85,000, Lone Star College System is the largest institution of higher education in the Houston area, and the fastest-growing community college system in Texas. Dr. Richard Carpenter is the chancellor of LSCS, which consists of five colleges including LSC-CyFair, LSC-Kingwood, LSC-Montgomery, LSC-North Harris, and LSC-Tomball, six centers, LSC-University Park, LSC-University Center at Montgomery, LSC-University Center at University Park, Lone Star Corporate College, and LSC-Online. To learn more visit www.LoneStar.edu.