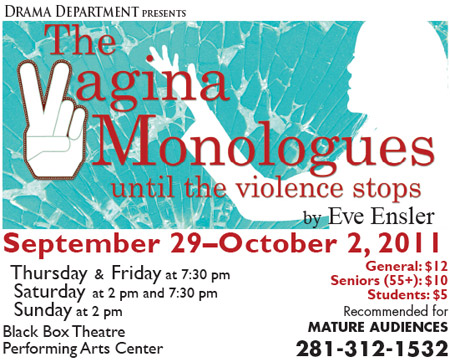 The Drama Department's first fall production is sure to provoke thought and conversation long after the curtains close in Lone Star College-Kingwood's Black Box Theatre.
Recommended for Mature Audiences, Eve Ensler's "The Vagina Monologues" is an Obie Award-winning Off Broadway episodic play that was created using the personal experiences of more than 200 women. The play addresses women's sexuality and the social stigma surrounding rape and abuse, creating a new conversation about and with women.
"'The Vagina Monologues' is a play that helps emphasize the ability of women to find peace within themselves through self exploration, personal experiences of stable and loving relationships and poetry surrounding the miracle of birth," said Kali Vlahos, technical director and designer at LSC-Kingwood.
This production introduces a wildly divergent gathering of female voices, including a six-year-old girl, a septuagenarian New Yorker, a workshop participant, a woman who witnesses the birth of her granddaughter, a Bosnian survivor of rape, and a feminist happy to have found a man who "liked to look at it."
The cast is made up of 10 women consisting of seven students; two employees and one community member. This is the first time that "The Vagina Monologues" will be performed on campus. Previously, it has been translated into 45 different languages and performed in more than 130 countries.
"This production exemplifies the female experience and celebrates female empowerment and individuality," Vlahos said. "This play laid the foundation for the national movement, 'V Day: A Global Movement to End Violence Against Women and Girls'".
"The Vagina Monologues" will be performed in the Black Box Theatre in the college's Performing Arts Center (formerly Student Fine Arts building) Sept. 29-30 at 7:30 p.m., Oct. 1 at 2 p.m. and 7:30 p.m. and on Oct. 2 at 2 p.m. The cost is $12 for general admission, $10 for seniors and $5 for students. Space is limited so reserve tickets ahead of time.
For more information or to purchase/reserve tickets, contact Jan Schultz at 281-312-1532 or Janet.A.Schultz@LoneStar.edu.
---
Register now for credit classes online through myLoneStar. Classes are offered days, evenings, or weekends in traditional, Internet, video, TV and independent study formats. For more information on how to register online, visit www.lonestar.edu/registration.
For general information about Lone Star College-Kingwood, call 281-312-1600 or visit http://lonestar.edu/kingwood.htm
With more than 69,000 students in credit classes for spring 2011, and a total enrollment of more than 85,000, Lone Star College System is the largest institution of higher education in the Houston area, and the fastest-growing community college system in Texas. Dr. Richard Carpenter is the chancellor of LSCS, which consists of five colleges including LSC-CyFair, LSC-Kingwood, LSC-Montgomery, LSC-North Harris, and LSC-Tomball, six centers, LSC-University Park, LSC-University Center at Montgomery, LSC-University Center at University Park, Lone Star Corporate College, and LSC-Online. To learn more visit
www.LoneStar.edu
.