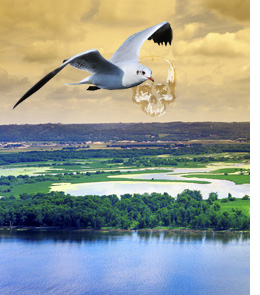 Lone Star College-CyFair Theatre Department presents "A Seagull in the Delta" Oct. 13 through Oct. 23.
Go back in time to 1968 in rural Mississippi against the backdrop of the Civil Rights Movement with LSC-CyFair adjunct faculty member Claire Hart-Palumbo's modern retelling of Anton Chekhov's "The Seagull." Like Chekhov's classic play, it is a story of people searching for love and acceptance, usually from the wrong people, in a world divided by class issues.
Hart-Palumbo writes and directs this play in which old flames are fanned, current relationships are strained, new romance blooms and the public face of liberalism is stripped away to expose the deeply ingrained prejudice that threatens all their possible happiness.
Among the cast members are LSC-CyFair students: Brooks Bufford, Aolani Lorraine, Lhoren Morris, Cole Pfaffenberger, Mark Samson, Angela Sweitzer and Marissa Tzonn,
A preview performance will be held at 7:30 p.m. Oct. 13 with following performances held at 8 p.m. Oct. 14 (with a reception to follow), Oct. 15, Oct. 21 and Oct. 22 as well as at 3 p.m. Oct. 23. All performances, which are for mature audiences only, will be held in the Main Stage Theatre, 9191 Barker Cypress.
Tickets are $15 for general admission, $12 for seniors, $5 for students with a valid ID and $5 for all tickets at the preview performance. Group rates are available.
For tickets and information go to LoneStar.edu/boxoffice or call 281.290.5201