Speakers give personal accounts of the past
The 1960s proved to some to be a tumultuous time in respect to Civil Rights and equality. To give people a first-hand account, Lone Star College-Kingwood's Office of Student Life, through its Dia de la Cultura event, presents, "Freedom Riders and the Fight for Civil Rights".
Speakers Herbert Hamilton and Hezekiah Watkins were invited by Raúl Reyes, history professor, to share their personal experiences as they fought for equality and justice. "Freedom Riders and the Fight for Civil Rights" will take place Thursday, Sept. 29 at 6:30 p.m. in the college's new Student-Conference Center. The general public is invited to this free event.
"I personally share a sincere hope that for our student body, some of them, one of them, will be courageous and willing to understand one thing. That sometimes fate, destiny, or sheer happenstance compels us to act; to lend our singular voice in the name of fighting injustice and speaking out," Reyes said. "I've got faith that the words shared by our two distinguished speakers will echo so deeply that at least one of our students will be inspired to participate and step out of their comfort zone and the sidelines of life."
As a Texas Southern University student, Hamilton, a native Houstonian, and other students started their Civil Rights movement on March 4, 1960. They organized demonstrations, sit-ins and picketed various businesses and organizations.
"Back then, blacks were not allowed to sit at the lunch counter. We had to order our food and wait outside for it," Hamilton said. "When we first began, we held demonstrations after classes two to three times a week."
Hamilton recalls what prompted him to help start this movement. As a college student in Chicago, he was the only black athlete on the wrestling team. His white counterparts would not practice with his 140 pound frame unless they were 200 pounds or heavier.
"During a wrestling match, I broke my opponent's ribs and was threatened. That was a learning experience for me," he said.
Back in Texas, picketing, demonstrating and holding sit-ins didn't come without a price. Many, if not all, protestors were arrested; Hamilton was arrested at least 15 times. He said that once they arrived at their location, he called the newspapers, television stations and the police department.
"I called them (police) to make sure that we were safe. Our main priority was making sure that all students remained safe and got back home and to school unharmed," he said.
Today, Hamilton said that the cause they fought for in the 1960s is something that he would do all over again. His reason for telling his story is to give people a sense of history.
Watkins, from Jackson, MS, was only 13-years-old when he joined the Freedom Riders, a group of young people -middle school, high school and college students- who wanted to get involved in an effort to break segregation in the South through the guidance of core community leaders.
"Listening to older Riders (who organized the activities in Jackson) and leaders of the NAACP talk about the conditions of the South and how blacks were treated immediately piqued my curiosity and led me to get involved," Watkins said.
The Freedom Riders originated in Washington, D.C. The group got its name because they rode Greyhound buses from Washington to Jackson picking up other people who wanted to get involved. According to Watkins, the organization was successful because despite the deplorable treatment and conditions of blacks, laws slowly changed in favor of justice and equality for all people.
"I tell my story to challenge young people and adults to find their purpose in life; develop their own morals and standards and live by them. I encourage them to stand up for right by getting actively involved in correcting a wrong," he said.
Watkins goes on to say that although living conditions are much better today, there is still more to do be done in regards to racism. He said that people are still fighting for a better way of life; for their piece of the American dream.
For more information on the "Freedom Riders and the Fight for Civil Rights" program, contact Raúl Reyes at 281-312-1594 or Raul.R.Reyes@LoneStar.edu.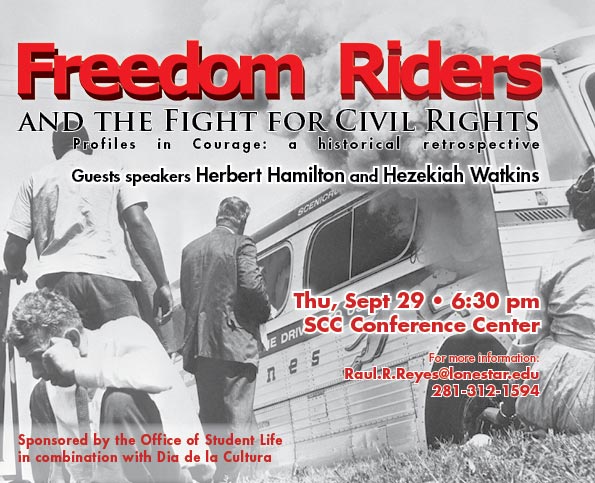 ---
Register now for credit classes online through myLoneStar. Classes are offered days, evenings, or weekends in traditional, Internet, video, TV and independent study formats. For more information on how to register online, visit www.lonestar.edu/registration.
For general information about Lone Star College-Kingwood, call 281-312-1600 or visit http://lonestar.edu/kingwood.htm
With more than 69,000 students in credit classes for spring 2011, and a total enrollment of more than 85,000, Lone Star College System is the largest institution of higher education in the Houston area, and the fastest-growing community college system in Texas. Dr. Richard Carpenter is the chancellor of LSCS, which consists of five colleges including LSC-CyFair, LSC-Kingwood, LSC-Montgomery, LSC-North Harris, and LSC-Tomball, six centers, LSC-University Park, LSC-University Center at Montgomery, LSC-University Center at University Park, Lone Star Corporate College, and LSC-Online. To learn more visit www.LoneStar.edu.