Renowned jazz musicians are scheduled to take the stage during the Kingwood Big Band's Fall Jazz Concert at Lone Star College-Kingwood.
Trombonists Bill Watrous and Aric Schneller will perform on Oct. 21 and 22 at 7:30 p.m. in the college's Performing Arts Theatre.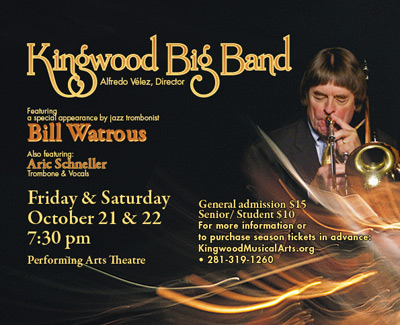 "The audience will experience trombone virtuosity at its finest from both of our exceptional guests. Bill Watrous and Aric Schneller are known for their improvisational creativity through their instrument. Schneller is also an accomplished jazz singer in the scat tradition," said Fred Velez, director of bands at LSC-Kingwood and director of the Kingwood Big Band.
According to Watrous' bio, he is one of the preeminent trombonists working in the field of jazz today. He has performed with jazz legends including Woody Herman, Roy Eldridge and Count Basie. Throughout his career, he has also been a guest soloist on many albums by other prominent jazz musicians such as Frank Sinatra, Ray Charles and Arturo Sandoval. Watrous has been voted "Number One Jazz Trombonist" seven years in a row by Downbeat Magazine and has won the magazine's critics' award twice.
Schneller's bio introduces him as an artist of many talents with the ability to sing, play, compose, and teach music at the highest levels. He has sung professionally with the Ohio Light Opera, the Boston Lyric Opera, and the dell'Arte Opera Ensemble of New York City. Schneller has worked/performed with such jazz greats including John Allred, Randy Brecker, Pete Christlieb, John Fedchock, Chuck Findley, Andy Firth, Ingrid Jensen, Rich Matteson, Diane Reeves, Lynn Seaton, Ed Soph, and Allen Vizzutti.
Watrous and Schneller will also conduct a free Jazz Clinic for north Houston-area high school and college students. The clinic is on Saturday, October 22 at 2 p.m. in LSC-Kingwood's new Recital Hall.
"We are very excited to have both Watrous and Schneller perform at our Fall Jazz Concert," Velez said. "We encourage the community to come and enjoy the performances by the musicians and the Kingwood Big Band."
The Kingwood Big Band was organized in fall 2004 and is sponsored LSC-Kingwood. The band is a collection of adult musicians, including college students, engineers, medical professionals, music educators and businessmen, who are drawn together by a mutual love for classic and contemporary big band jazz. The purpose of the concert is to promote jazz music in the Kingwood and surrounding communities.
"This is a good opportunity for our students and adult members in the band to perform with icons in the jazz world," Velez said. "The concert also serves as an educational and community outreach effort to local public school students who are interested in jazz."
The Kingwood Big Band repertoire now includes music made famous by such jazz luminaries as Duke Ellington, Harry James, Stan Kenton, Tommy Dorsey and other contemporary jazz composers. In 2007, the big band made their European debut, traveling to Italy and Switzerland, where they participated in the International Jazz Festival in Montreux.
Tickets to the Fall Jazz Concert are $15 for general admission and $10 for senior citizens and students. For more information on the Kingwood Big Band or to purchase tickets call 281-216-4967 or visit http://kingwoodmusicalarts.org.
---
Register now for credit classes online through myLoneStar. Classes are offered days, evenings, or weekends in traditional, Internet, video, TV and independent study formats. For more information on how to register online, visit www.lonestar.edu/registration.
For general information about Lone Star College-Kingwood, call 281-312-1600 or visit http://lonestar.edu/kingwood.htm
With more than 69,000 students in credit classes for spring 2011, and a total enrollment of more than 85,000, Lone Star College System is the largest institution of higher education in the Houston area, and the fastest-growing community college system in Texas. Dr. Richard Carpenter is the chancellor of LSCS, which consists of five colleges including LSC-CyFair, LSC-Kingwood, LSC-Montgomery, LSC-North Harris, and LSC-Tomball, six centers, LSC-University Park, LSC-University Center at Montgomery, LSC-University Center at University Park, Lone Star Corporate College, and LSC-Online. To learn more visit www.LoneStar.edu.