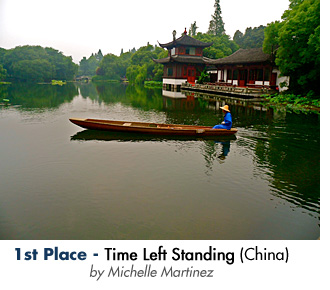 A picture is worth a thousand words and for three Lone Star College-CyFair students, pictures from their Study Abroad trip to China were also worth cash prizes.
The 2011 Study Abroad Photo Contest was an opportunity for students who participated in LSC-CyFair's Study Abroad programs to Costa Rica, China and Italy.
"Their submissions reflected an appreciation of the area, the cultures and the unique learning experience embodied in Study Abroad programs and the entries were wonderful," said Patsy Brautigam, reference librarian and contest co-coordinator with Ruth McDonald. "We'd like to thank the judges, who had a very difficult time with their decisions, for their time and expertise. We'd also like to thank the Friends of the Library at LSC-CyFair for their support in funding the awards for this project."
Winning a first-place $200, $100 second-place and $50 third-place award respectively were Michelle Martinez for "Time Left Standing", Jassir Hernandez for "Yellow Mountain" and Martha Ocampo for "Belly of Hongcun."
Martinez, a biology student pursuing a career in the medical field, lived and learned the Chinese language and history for a month. She said the trip exceeded her expectations and she believes adapting and gaining a greater understanding and perspective of such a different culture will benefit her in any future career.
"The food, the people and the culture were amazing and unforgettable overall," said Martinez.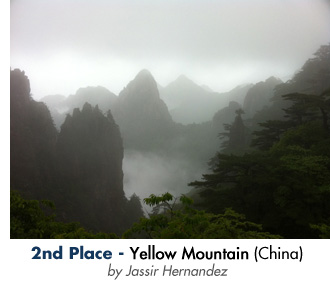 Her photo submissions, which include two Honorable Mentions for her photos titled "West Lake Beauty" and "Check Mate," were chosen to show the beauty of day-to-day life, captured as it was unfolding.
"My winning photo was exactly how I felt at the moment, capturing out of the constant moving and busyness of the city, time that seemed to stand still," she said. "I was walking through West Lake in Hangzhou and there on the lake was a man rowing his canoe, most likely doing a job he does every day, but it seemed very peaceful and calm."
Hernandez, who is pursuing a degree in Professional Aeronautics, said he went to China because he loves learning new languages and being fluent in other languages will be an asset to a career in aviation.
"The classes were perfect. I was learning Chinese in China with a Chinese teacher. I couldn't have asked for more," he said. "The grades were all good, but the experience is what counts."
In addition to working on earning his pilot's license so he can travel frequently, Hernandez said he loves taking photos, particularly of airplanes and landscapes. The 6,115-foot tall mountain range, Yellow Mountain, or Huangshan in Chinese, located in the Anhui province in China won him second place in the contest.
"That day it was raining cats and dogs, and so it was foggy and a little bit cold. For a short period of time, the rain stopped and the visibility increased," he said. "That moment was when I took the picture. I first did one with my cell phone and then decided to pull out my camera."
Ocampo, a future human rights lawyer, said plunging herself into a rich and vivid culture and completely different world than her own, was one of the most enriching and rewarding experiences of her life.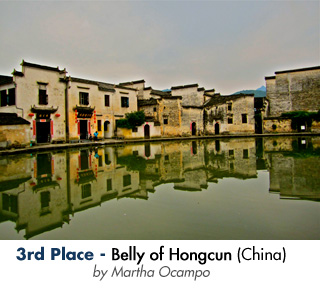 "Hopefully these photos, not just mine, will encourage other students to take advantage of the international study opportunities available to them through Lone Star College," said Ocampo, who also received an Honorable Mention for her photo titled "Barrio Chino."
She said her third-place photo was taken in the Hongcun Village, which was built in the shape of an ox and where the architecture from the Qing and Ming dynasties has been well preserved.
"The location of the picture is what the villagers call 'the belly of the ox,'" she said. "As a movie fanatic, I was also looking forward to going to this village because scenes from the film 'Crouching Tiger, Hidden Dragon' were shot there."
Also receiving Honorable Mentions were Juan Lerma for "There Is No Change" taken in China and Sophia Solis for "Whispering Waters" taken in Costa Rica.
"Being that Costa Rica is known for its rainforests and scenery, I wanted to capture the beautiful country in its purest, and most natural state," said Solis. "The photo that received an honorable mention was taken at the beach right along Campanario where we stayed. After a long day of traveling we took some time to relax and enjoy the scenery."
Solis said she not only faced her fears in Costa Rica, but the class work was more hands on and exciting from hiking in the rainforest to recording 150 different species to kayaking and even zip lining.
"If I was learning Biology II in a typical classroom setting, I am sure the material would have left my mind soon after, but with this experience it will stay burned in my memory forever," she said. "It was the greatest adventure of my life."
It's not too early to start thinking about studying abroad for the summer of 2012 in Costa Rica, Italy, Sri Lanka or South Korea. Applications will be due in early spring and scholarships are available. Go to LoneStar.edu/study-abroad for information.
The winning Study Abroad contest photos are on display in the library as well as available online with other photo submissions at LoneStar.edu/library/photo-contest.