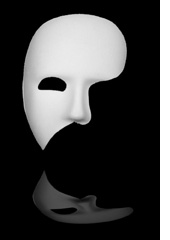 "Phantom of the Opera" is coming to Lone Star College-CyFair this spring with auditions for emerging professionals being held this fall from 5 p.m. to 7:30 p.m. Thursday, Nov. 10 in the Main Stage Theatre.
"Winner of seven 1988 Tony Awards, including The Best Musical, Andrew Lloyd Webber's masterwork 'Phantom of the Opera' has become the most popular and longest running musical in the world," said Alex Qian, LSC-CyFair's artistic director of vocal activities. "Its heart-taking story and heart-melting songs have made a lifelong memory for many audiences and being part of the show has been the dream of the many emerging professional singers."
Reservations are required to schedule an audition time for this Lyric Opera performance on stage at LSC-CyFair. Selections should be in English, preferably from the "Phantom of the Opera," and an accompanist will be provided.
Lead and support roles are available in this show, which Harold Prince originally directed on Broadway. Principal roles may be double casted and all casted singers will need to be Spring 2012 LSC-CyFair students registered in MUSI 1159.
LSC-CyFair's Matthew Albrecht will provide stage direction while Qian will provide the musical direction.
Rehearsals are set to begin Jan. 18, 2012 with performances scheduled for April 27 through May 6, 2012 in the Main Stage Theatre at 9191 Barker Cypress.
For audition reservations and information, contact Melanie Bilancich rehearsal manager, at Melanie.C.Bilancich@lonestar.edu, Albrecht at 281.290.3439 or Qian at 281.290.5985.