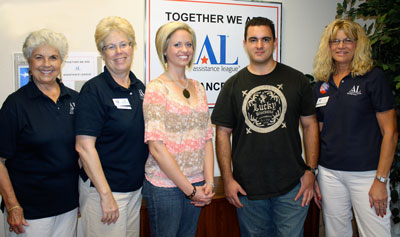 After a motorcycle accident in 2008, it was a three-year rehabilitation process that gave Justin Guy, a student at Lone Star College-Montgomery, a second chance at life. And now, it's a scholarship from Assistance League of Montgomery County that's providing him a second chance at education.
Guy, along with seven other students from the Lone Star College System, was awarded Assistance League's 2011 Return to Education scholarship, a $750 award given to non-traditional students attending school after a life-altering event.
"My priority in life now is to give back to those who have helped me along the way," said Guy, who is pursuing a career as a physical therapy assistant. "When you are used to doing stuff a certain way and then forced into a different body, it can be hard. But having gone through it, I have a better understanding of what it takes to recover one day at a time."
While headed to a gym in The Woodlands one morning, Guy was involved in a serious motorcycle accident. He hit a tree after veering off the road on a blind curve to avoid a car driving the wrong direction on a one-way street. He was airlifted to Memorial Hermann-Texas Medical Center in Houston and treated for life-threatening injuries.
"The medical center in Houston is one of the best in the world," said Guy. "They are why I am alive and where I am today."
Once Guy's head injury was stable, the next step in physical recovery was learning to walk again. And according to Guy, who spent an entire year in hospitals and rehabilitation facilities, "that took a lot of time out of my life."
"And now, I'm at the next level, deciding for myself how to use my resources and what I've learned through my recovery to re-educate myself."
Guy is no stranger to LSC-Montgomery. In 2008, right before his accident, he graduated with an associate's degree in business and planned to pursue a bachelor's degree in international business. Guy was in critical condition in the hospital when his diploma arrived in the mail.
Now, equipped with first-hand knowledge of what it takes to recover, Guy has decided to switch his career focus to the medical field, working in rehabilitation, research, and recovery. This summer, he started this new path and completed his first course, The Profession of Physical Therapy (PTHA 1201), with an A.
"It took me three years to get to this point, where I look forward to my future," said Guy. "And now, I look forward to being able to help others, too."
The Return to Education scholarship is an annual award provided by Assistance League, which has an overall mission of providing direct social and educational services to Montgomery County's economically disadvantaged children and adults.
"This scholarship is a valuable component of our three-part scholarship program," said Jane Gehring, a volunteer with Assistance League. "For the 2011-12 academic year, Assistance League awarded $30,000 to graduating high school seniors, second- to fourth-year college students, and then those non-traditional students returning to college."
Another recipient of the Return to Education scholarship is Allyson Lile, a 24-year-old mother hoping to instill the importance of education in her four-year-old daughter. In fact, with a goal to become a teacher, Lile hopes to send that message to other children, as well.
"I want to convey to my daughter that anything is possible," said Lile. "I want to teach her to pay attention to the little things in life, as those little things lead you to where you need to be."
In her scholarship application essay, Lile wrote, "life is what you make it—but you have to get out there, work hard,
and make it
." It's a personal reflection on her own life story, which despite an unconventional upbringing, tumultuous high school years, and a divorce at age 20, has evolved to be positive, focused, and goal-driven.
Through hard work and dedication, including two years of service in the U.S. Navy, Lile has persevered and is now on a course to receive her degree. She started courses this summer at LSC-Montgomery and because of her success, has already has been invited to join Beta Delta Iota, the college's chapter of Phi Theta Kappa, the international honor society.
"I want to change the lives of young children through positive motivation," said Lile. "I want to give them the building blocks to make good decisions while growing up and entering adulthood. I am absolutely determined to obtain my degree and be proud of who I am."
For those non-traditional students like Guy or Lile who are returning to college, Assistance League will award the 2012 Return to Education scholarship in the spring, with funds available for the 2012-13 academic year. Details on the scholarship opportunity will be available soon.
"When students receive scholarships from Assistance League, they not only get financial help, they get the support of the entire membership," said Betty Cottar, public relations chairman for Assistance League. "We keep in touch with every student, provide mentoring and do whatever we can to help insure their academic success. It's like having more than 200 cheerleaders standing behind them and cheering them on!"
For more information about Assistance League or their scholarship opportunities, visit
http://assistanceleaguemont-co.org/
or call 936.760.1151.
LSC-Montgomery is located at 3200 College Park Drive, one-half mile west of Interstate 45, between Conroe and The Woodlands. For more information about the college, call 936.273.7000, or visit www.LoneStar.edu/montgomery.

With more than 75,000 students in credit classes for fall 2011, and a total enrollment of more than 90,000, Lone Star College System is the largest institution of higher education in the Houston area, and the fastest-growing community college system in Texas. Dr. Richard Carpenter is the chancellor of LSCS, which consists of five colleges including LSC-CyFair, LSC-Kingwood, LSC-Montgomery, LSC-North Harris, and LSC-Tomball, six centers, LSC-University Park, LSC-University Center at Montgomery, LSC-University Center at University Park, Lone Star Corporate College, and LSC-Online. To learn more visit LoneStar.edu.