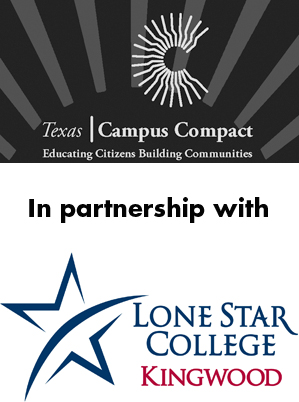 Lone Star College-Kingwood knows the importance and benefits of getting more involved in its community through various outreach programs.
In an effort to instill this passion in its students, the college's Center for Civic Engagement, along with co-sponsors University of Houston-Downtown and Texas Campus Compact, will host its first two-day conference on Nov. 18-19 from 11 a.m.-5 p.m. in the new Student-Conference Center. The conference will demonstrate to faculty the skills needed by students to increase civic involvement on campus and in their communities.
"Through a variety of presentations, educators and students will be provided with the tools for teaching and learning civic engagement strategies," said Dr. Jay Theis, Political Science professor at LSC-Kingwood. "This conference brings together government and nonprofit professionals, students and educators."
The conference will feature two tracks: civic engagement and enriching service learning activities. On Friday, Nov. 18, the program will start at noon with lunch featuring keynote speaker Dennis Donovan, the national organizer for Public Achievement. Following lunch, there are breakout sessions. On Saturday, Nov. 19, the conference will start with breakfast breakout sessions and lunch highlighting a student panel.
"This conference will aid faculty to discover strategies to assist students in becoming citizen professionals by providing resources they can use," said Dr. Bill Coppola, executive director of Academic Partnerships and Initiatives at LSC-Kingwood. "Presenters will provide educators with a tool box of successful engagement strategies and ways to integrate civic engagement into their courses and curriculums."
LSC-Kingwood's Center for Civic Engagement encourages students to become active citizens in their communities. Established during the 2010-2011 academic year, CCE's goal is to produce citizens who take on active roles through dialogue with politicians in addressing complex problems that are facing their community and the country.
"This program provides administrative structure and support for campus-based programs and students who want to become more engaged in their communities," Theis said.
Campus programs that receive resources and support are Service Learning, Student Life, Phi Theta Kappa, Public Achievement, Honors Program and Honors Student Organization. These programs also feature a civic/service component as part of their organizational mission.
For more information on LSC-Kingwood's Center for Civic Engagement's conference, contact Dr. Jay Theis at John.J.Theis@LoneStar.eduor Dr. Bill Coppola at Bill.Coppola@LoneStar.edu.
---
Register now for credit classes online through myLoneStar. Classes are offered days, evenings, or weekends in traditional, Internet, video, TV and independent study formats. For more information on how to register online, visit www.lonestar.edu/registration.
For general information about Lone Star College-Kingwood, call 281-312-1600 or visit http://lonestar.edu/kingwood.htm
With more than 75,000 students in credit classes for fall 2011, and a total enrollment of more than 90,000, Lone Star College System is the largest institution of higher education in the Houston area, and the fastest-growing community college system in Texas. Dr. Richard Carpenter is the chancellor of LSCS, which consists of five colleges including LSC-CyFair, LSC-Kingwood, LSC-Montgomery, LSC-North Harris, and LSC-Tomball, six centers, LSC-University Park, LSC-University Center at Montgomery, LSC-University Center at University Park, Lone Star Corporate College, and LSC-Online. To learn more visit www.LoneStar.edu.