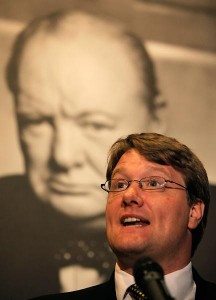 Jonathan Churchill-Sandys will be the featured speaker at a benefit for the Texas Sentinels Foundation at Lone Star College-Montgomery on Thursday, November 3.
THE WOODLANDS, TX – Tickets are now available for
Churchill: An Evening of Wit and Wisdom,
a special performance set for Thursday, November 3 at Lone Star College-Montgomery. The performance will feature Jonathan Churchill-Sandys, the great-grandson of Britain's wartime Prime Minister, Sir Winston Churchill. Churchill-Sandys is an internationally recognized public speaker and freelance journalist, and is also the chief executive officer of the Houston-based nonprofit, International Churchill Foundation.
Though he was born 10 years after his illustrious relative's passing, Jonathan Churchill-Sandys credits his legacy as a major positive influence in his life. He found that the 'never give in' attitude of Churchill was what made it possible for him to rise above the challenges of dyslexia and social isolation to become very successful.
This special event is a benefit for The Texas Sentinels Foundation, created by RE/MAX of Texas in 2007 to give back to the men and women of our armed services who have served our country. The Foundation is a nonprofit organization that provides mortgage-free homes and a new lease on life to U.S. Military Personnel severely injured in overseas conflicts since 9-11-01.
"Lone Star College-Montgomery is pleased to host this special performance and benefit for The Texas Sentinels Foundation," said Steve Scheffler, dean of college relations for LSC-Montgomery. "At the college, we have a similar mission. Through our Veterans Affairs Center, we provide veterans and their family members with assistance in achieving their educational goals, making career transition, and aiding with other personal issues which resulted from their service to our country."
The evening will begin at 7:00 pm with a welcome by Lone Star College and introductions by The Texas Sentinels Foundation. The program will begin at 7:15, followed by dessert compliments of Américas and coffee provided by Luby's.
Churchill: An Evening of Wit and Wisdom will take place in the Montgomery Center for the Arts, Building D on the Lone Star College-Montgomery campus, located at 3200 College Park Drive, The Woodlands, TX 77384. Tickets are $35 each, and may be purchased online at www.txsof.org/WitWisdom.html or by check or cash at The Woodlands Homefinder Center located at 2000 Woodlands Parkway.
This event is being sponsored by RE/MAX, The Woodlands Development Company, Ryland Homes, Post Custom Homes, Stewart Title and Américas.
View the event flyer.
For more information about this event and sponsorship opportunities, contact Jeanne Lewis at 281-719-6392 or jlewis@thewoodlands.com.