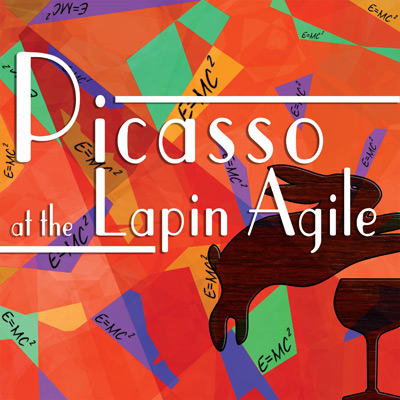 Imagine sitting in a Parisian café in the early 1900s and listening to two geniuses speak on the century's accomplishments.
While going back in time to visit with Albert Einstein and Pablo Picasso is not an option, their interaction will come to life at Lone Star College-Kingwood's production of "Picasso at the Lapin Agile" Nov. 17-19 at 7:30 p.m. and on Nov. 19-20 at 2 p.m.
"Picasso and Einstein will talk about the 'Theory of Relativity' as it relates to art and 'Les Demoiselles d'Avignon' as it relates to mathematics while they imbibe and seduce women," said Eric Skiles, artistic director and professor of Theatre at LSC-Kingwood.
This imaginary meeting takes place at the Lapin Agile Cabaret in Montmartre, Paris in 1904. As Einstein and Picasso discuss the century's achievements and potential prospects, they receive a surprise visit from a charismatic, dark-haired singer who was time warped from a later era.
"Picasso at the Lapin Agile" is performed by 10 LSC-Kingwood students and one community member. The company includes: Robert J. Byford as Einstein, Garrett Cross as Picasso, Justin Durtschi as Freddy the bartender, Robert E. Malbrough as Gaston, Karlee Gens as Germaine the barmaid, Rachyl McDowell as Suzanne, Anthony Ramirez as Sagot the art dealer, Derek Gaskamp as Schmendiman, CiCi Woods as the Countess, Angie Juarez as the Female Admirer, and Eric Christopher Sandell as the Visitor from Time/Space. Most of the actors take courses on campus, while Cross teaches sixth-grade theatre classes for New Caney Independent School District and Ramirez is a Quest Early College High School Student at the new LSC-Atascocita Center.
"'Picasso at the Lapin Agile' is a great comedy for anyone over the age of 13. It is a fun look at an important time in the history of the world," Skiles said.
This production is a first at the campus but it has been performed around town. It is the brainchild of Steve Martin, famous for his work on "Saturday Night Live".
"Picasso at the Lapin Agile" will be performed in the Performing Arts Theatre. Tickets are available at the new box office in the Performing Arts Center, formerly the Student Fine Arts Building. Cost is $12 for general admission, $10 for seniors and $5 for students.
For reservations and more information, contact Jan Schultz at 281-312-1532 or Janet.A.Schultz@LoneStar.edu.
---
Register now for credit classes online through myLoneStar. Classes are offered days, evenings, or weekends in traditional, Internet, video, TV and independent study formats. For more information on how to register online, visit www.lonestar.edu/registration.
For general information about Lone Star College-Kingwood, call 281-312-1600 or visit http://lonestar.edu/kingwood.htm
With more than 75,000 students in credit classes for fall 2011, and a total enrollment of more than 90,000, Lone Star College System is the largest institution of higher education in the Houston area, and the fastest-growing community college system in Texas. Dr. Richard Carpenter is the chancellor of LSCS, which consists of five colleges including LSC-CyFair, LSC-Kingwood, LSC-Montgomery, LSC-North Harris, and LSC-Tomball, six centers, LSC-University Park, LSC-University Center at Montgomery, LSC-University Center at University Park, Lone Star Corporate College, and LSC-Online. To learn more visit www.LoneStar.edu.