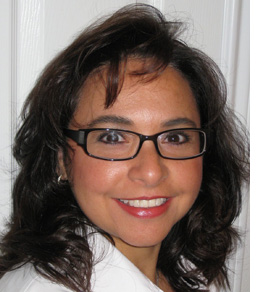 As the holidays approach and the semester draws to a close, Dr. Michel Rodriguez-Zuch is settling into to her new position as Lone Star College-CyFair's Dean of Academic Affairs.
Dr. Rodriguez-Zuch, who joined the LSC-CyFair family in August after seven years at Blinn College, said she's found the transition exciting and educational.
"The campus environment has an excitement and everyone is energized," she said. "It's a combination of its newness and the people hired who have drive, expectations, work ethics and teamwork that creates a wonderful campus culture."
While she's learning the inner workings of a college system, from the governance and administration to processes and procedures, Dr. Rodriguez-Zuch said her experience with student services, technology, program development, grant writing and teaching has already been a huge benefit for her.
Dr. Rodriguez-Zuch's career in education began after five years in retail management in Dallas and one year in College Station. Married, but no children yet, she earned her alternative teacher certification, master's with Principal certification and Ph.D. in five years.
"Opportunities came around and led me to different positions (from high school teacher to working at the Texas A&M University System to Blinn's director of enrollment management, director of student development and dean of student services) and different degrees which eventually led me here," said Dr. Rodriguez-Zuch, who still teaches in the online MBA program at Tarleton State University.
Now at LSC-CyFair, she's excited to be involved with a variety of system initiatives and campus programs as well as about creating new programs and grant development.
"What's so great about my position and the timing is I'm getting in on the ground floor with several initiatives," she said.
In her spare time, Dr. Rodriguez-Zuch spends time with her husband and now 8-year-old daughter in Brenham where they live on 100 acres. However, she is a lifelong learner and admits she goes through a book-on-tape a week on her commute.
"If I just listen to the radio, I feel like I'm wasting time, so if I listen to a book, I'm learning something and feel more productive," she said.