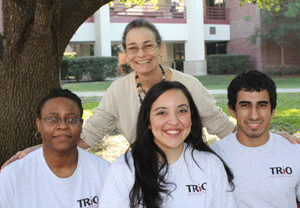 TRiO program manager Jane Buckner stands behind, from left, Lana Walters, Ericka Degracia, and Charlie Pineda.
LSC-Tomball is proud to have its own cohort of students participating in the TRiO Student Support Services program. Funded by a grant awarded to LSC-Tomball and LSC-North Harris by the Department of Education, our TRiO staff works to assist eligible students who want to be successful in college, but may have some academic, financial, or physical barriers that make this goal difficult.
Led by program manager Jane Buckner TRiO advisors Lana Walters, and Ericka Degracia, provide a variety of one-on-one services to students in the program. These services include academic advising, tutoring, financial aid literacy, grant aid opportunities, transfer planning, workshops, cultural/enrichment activities, mentoring, and career resources. "It really is a one-stop shop for students participating in the cohort," Buckner said.
In order to qualify for participation in the TRiO program, students must be a US citizen or permanent resident, be enrolled in at least 9 credit hours at LSC-Tomball, and meet one or more of the following criteria: be a first generation college student, be eligible for or receiving financial aid based on need, or have a documented disability. Buckner explains, "Our goal is to give these students the support they need to graduate and to transfer to a four-year college."
Visit the TRiO staff, which is rounded out by staff assistant Charlie Pineda, in S-114.