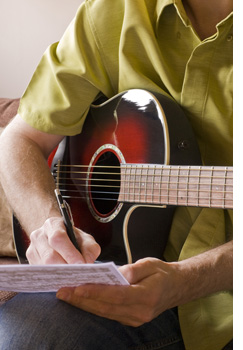 Register now for Lone Star College-CyFair's Popular Song Writing Class and let the songs, or perhaps a future Grammy Award winner, inside you emerge.
Sign up for the credit class, MUSI 1386-5001, to learn the basics of popular song writing, including lyric writing, form, melody and harmony, with an experienced composer-lyricist on the LSC-CyFair Music Department faculty.
Assistant Professor of Music Dr. Aaron Alon, will teach students about traditional and contemporary styles and students will also have the opportunity to write new songs in styles of their own choosing.
Pre-requisites for this class include completion of ENGL 0305 and ENGL 0307 with at least a 'C' or ENGL 1301 with at least a 'D'.
This song writing class meets 1 p.m. – 2:20 p.m. Tuesdays and Thursdays in Room 108 in the Center for the Arts Building.
To register for the spring semester, which starts Jan. 17, 2012, go to LoneStar.edu/registration.