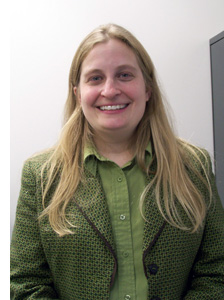 As the semester comes to an end for students, it's a new beginning for Erin Alonzo having recently joined Lone Star College-Fairbanks Center as Director of Student Services.
"Working in the student services area is rewarding, daily, moment by moment, because we're helping students help themselves. We are here to help them achieve," said Alonzo, who found her passion for higher education because of a remarkable advisor when she was an undergraduate student. "Higher education, to me, seems to be the only place you can really affect a student, a family and a community."
Alonzo said her college education and career was focused on business administration from the get go because of "the organization, the structure, the processes and understanding how they all worked together toward a common goal."
She taught in a classroom early on and served as an academic advisor, but found her niche for helping students to be in administrative roles, such as director of admissions at Ancilla College and then director of operations and technology in the office of admissions at St. Bonaventure University in Indiana.
"Ancilla is where I fell in love with community colleges," she said. "The whole idea of the first two years of education being the foundation that students need, and just seeing it proven over and over and time and time again, the importance of those first two years of community college - it hit me in the heart."
When her husband's job brought them to his hometown of Houston, Alonzo wanted to continue working at a community college. The diverse student population of LSC-Fairbanks Center and the one-stop shop environment, where students are helped from the application process through registration and on to reaching their individual goals, was familiar to Alonzo.
"That's what I like about the Lone Star College System," she said. "To me LSC is about lifelong learning and taking the student where they are today, wherever that may be, and helping them achieve whatever goal they set. I wholeheartedly believe in that philosophy. So it's a perfect fit."
In her director's position, she is responsible for student services including Admissions, Registration, Advising, Front Counter, Call Center, Business Office, Counseling and the Learning Commons/Tutoring. In her spare time, she likes to spend time with family and her two dogs, scuba dive, tent camp and travel.