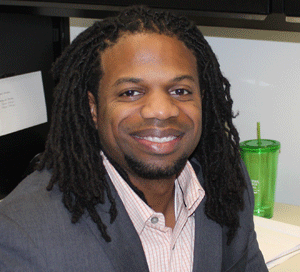 LSC-Tomball recently opened its new Assistive Technology Lab. This lab will promote the success of individuals with disabilities through the use of computer and networking technologies to increase their independence, productivity, and participation in education and careers.
The lab's strength lies in its ability to enable students with disabilities to concentrate on learning, and provide accessibility to instruction and resources already available to their "enabled" peers. The lab will not only provide an equal playing field in the academic setting for students, but it will also provide them a connection to industry and the working world through technology.
Cornelius Johnson, pictured, has been named the Coordinator of LSC-Tomball's Assistive Technology Lab. Originally from Seattle, Johnson earned his associate's degree from Seattle Central Community College, his bachelor's in Communications from the University of Washington, and his masters in Higher Education Administration from Indiana State University. He has over 13 years of student and academic affairs experience at a number of institutions, including the UT-Dallas, U of H Downtown, and the University of Houston.