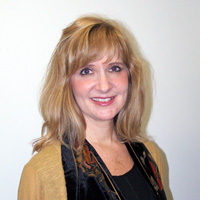 Recently named a National League for Nursing Ambassador, Lone Star College-CyFair's Sara Lewandowski is excited to represent the college on behalf of her colleagues and students this year.
"It really is an honor for not only Sara, but the college, as we now have a liaison with the largest and oldest nursing educational organization," said LSC-CyFair's Director of Nursing Jane Hagele. "Her participation ensures that we have information on the most recent and timely innovations in nursing education and practice."
Lewandowski, assistant professor of nursing for LSC-CyFair's Associate Degree Nursing (ADN) Program, said she appreciates the opportunity to teach at LSC-CyFair and serve as the college's NLN liaison.
"To me, I'm being a voice for my profession and finding ways to enhance my professional growth," said Lewandowski, who was a nurse for 17 years, before earning her master's from Texas Women's University and recently beginning her doctorate.
As NLN ambassador, she said she expects to learn and share information with other nursing educators and administrators on public policy from a broader perspective, professional development, educational resources available, grant opportunities, professional conferences and more.
Nursing is a profession with many career opportunities and ultimately, like life, it's all about people and relationships, she said.
"There's a very technical part of nursing with the daily tasks, but after time and with confidence, it's really more of an art in dealing with people, diversity, culture, families, dynamics and communication," she said.
And having begun her nursing career in an ADN program, Lewandowski said she can relate to the challenges facing some of her non-traditional students.
"I think I can help them through the personal and lifestyle challenges as well as the academic work," said this native Houstonian and 10-year Cy-Fair resident. "I'd like to encourage their involvement in professional organizations, like NLN, as soon as they can in their careers, because the networking and staying involved outside the bed side is important."
The NLN Ambassador Program was established in the fall of 2006 with an initial cadre of 126 members who teach in all types of nursing programs – practical nurse, associate degree, diploma, baccalaureate, master's and doctoral. Today, there are more than 700 ambassadors representing schools of nursing in 49 states plus Canada, Guam and the Virgin Islands. For information, go to www.nln.org.
For information on LSC-CyFair's nursing programs, go to LoneStar.edu/nursing-dept-cyfair.

About National League for Nursing
Dedicated to excellence in nursing, the NLN is the premier organization for nurse faculty and leaders in nursing education. The NLN offers professional development, networking opportunities, testing services, nursing research grants, and public policy initiatives to its 35,000 individual and 1,200 institutional members. NLN members represent nursing education programs across the spectrum of higher education and health care organizations and agencies. For information, go to www.nln.org.