Lone Star College-Kingwood is the first educational institution in Texas to implement the Center for Civic Engagement program on its campus. Established by concerned faculty and staff, the goal is to produce citizens to take an active role through dialogue with politicians in addressing complex problems that are facing the community and the country.
"Higher education was first developed to help build citizens, but in the last 30 years or so, the mission is now focused on job training, not on the development of citizenship skills," said Dr. John Theis, political science professor. "The center's mission is to not only provide quality job training but to also develop citizens who can participate in democracy/government beyond just showing up to vote."
Through the Center for Civic Engagement, the Public Achievement (PA) program was created. PA is a citizenship initiative developed at the Center for Democracy and Citizenship at Augsburg State University in Minnesota. The nationwide program encourages students to get involved in their communities helps them develop and hone their citizenship skills.
"Our LSC-Kingwood students work with high schools students at the Splendora Early College High School and Quest Early College High School. The high school students work on identifying problems in their community and develop action plans to impact those problems," Theis said.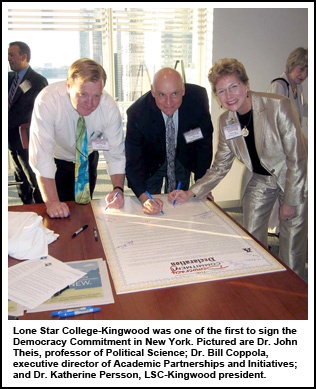 The Public Achievement program is comprised of 17 college students and more than 100 high school students. This year, the students are working on creating a teen center, raise awareness for animal abuse, improve a community park, increase student success in school, and create awareness for diabetes and cancer. As members of the program, each LSC-Kingwood student has committed to 300 community service hours in exchange of earning a Texas Campus Compact Student in Service Scholarship (SIS) in the amount of $1,175. Students can use the money to help off-set the cost of their education or to help make a difference in their community.
"Any time that we can help defray the cost of education and contributing to our community for our students, we certainly want to make that happen," Theis said. "These students are committed to finding the problems in the community and doing what they can to address the issues."
Through the Center for Civic Engagement, LSC-Kingwood was among the first to sign the Democracy Commitment in New York. This national initiative was developed by community colleges across the country to reinvigorate the mission of civic learning and engagement in higher education.
For more information on the Center for Civic Engagement or on Public Achievement at LSC-Kingwood, email John Theis at John.J.Theis@LoneStar.eduor visit http://www.lonestar.edu/LSC-Kingwood-Civic-Engagement.htm.