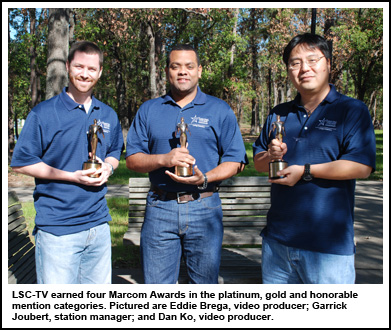 Although many believe the saying "third time is a charm" when trying to accomplish a feat; however that is not the case for Lone Star College-TV, housed at LSC-Kingwood. On its first attempt, the campus television station earned four Marcom Awards for four out of five entries.
Their award-winning entries garnered recognition in the platinum, gold and honorable mention categories. The station competed with other institutions around the world such as Moscow and Russia.
"We were very excited about winning these awards. It serves as motivation. Once the crew learned that we won; they wanted to go out and produce new videos to enter into next year's competition. It is gratifying to see the crew so excited," said Garrick Joubert, LSC-TV station manager. "Earning the Marcom awards is validation that all of our training and hard work through years is being recognized as one of the best in the world."
LSC-TV earned the platinum award for its entry, "Inspired". This video highlights inspiring quotes from famous people like Abraham Lincoln and Eleanor Roosevelt and used them in a video montage of LSC-Kingwood campus. This video will be shown to the Lone Star College System's board of trustees in February.
"Our goal was to inspire current students to stay in school and for potential students to come and register for courses at LSC-Kingwood," Joubert said.
"LSC-Kingwood Student Life (Johnny T)" video earned the station a gold award and a 2011 People's Telly Award. This production was produced in an infomercial format in an effort to "sell" student life activities to students. LSC-TV also earned two honorable mention awards for a second student life commercial and for "Photographing with Kathy Adams", a 30-minute television show about photography.
I have two excellent video producers here on staff, Eddie Brega and Dan Ko, and with their talents, LSC-TV is in good hands for the future," Joubert said. "I would like to thank them for their hard work, not only on these three projects but, all the projects that we produce."
In addition to the Marcom Awards, LSC-TV has also won several high-ranking Ava, Telly, Paragon and Communicator awards.
LSC-TV programming is located on channel 42 for Suddenlink Cable subscribers. The station strives to enrich viewers' lives with programming designed to increase awareness of local events and issues. For more information, visit http://www.lonestar.edu/lsc-tv.htm.