Lone Star College-Kingwood prides itself on providing quality education to its students and preparing them for careers in the work force through many program choices.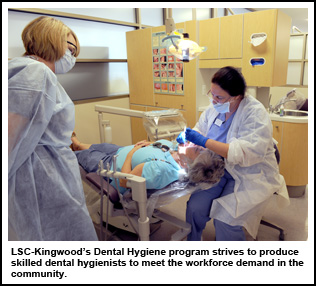 An example of one such stellar program is Dental Hygiene. The goal of the program is to produce quality, skilled dental hygienists, who possess comprehensive knowledge and skills to render competent professional dental hygiene patient care to the public, and to meet the workforce demand in the community.
"Our program makes a big difference in our community because we are not only producing dental hygienists we also instill a sense of community in them through volunteer efforts. Our students volunteer with a variety of school projects, at The Mission Northeast and in many other ways," said Maribeth Stitt, Dental Hygiene program director at LSC-Kingwood.
As dental hygienists, they will be able to perform oral health assessments; expose, process and interpret x-rays when diagnosed by a dentist; remove soft and hard deposits above and below the gum line; apply fluorides and sealants; teach patients proper oral hygiene; and counsel patients on the importance of good nutrition. In order for students to become registered dental hygienists, they must take and pass the National Board Dental Hygiene Examination, the Western Region Examining Board Process of Care exam and the Clinical Patient exam. The program boasts a 100 percent pass rate.
"Since the program began, we are proud to say that all of our students have passed all exams," Stitt said. "I attribute this success to a very hard working and committed faculty team that has high standards and of course to our excellent students."
The Dental Hygiene Program is approved by the Texas Higher Education Coordinating Board. The program in dental hygiene is accredited by the Commission on Dental Accreditation and has been granted the accreditation status of "approval without reporting requirements."
To learn more about the Dental Hygiene program, attend an information session during spring 2012 on Jan. 17, Feb. 21 and on May 15 at 5 p.m. in the Health Sciences Building (HSB) room 107. Prior to the information sessions, more information can be found by emailing Maribeth Stitt at Maribeth.W.Stitt@LoneStar.eduor visiting http://www.lonestar.edu/dental-hygiene-dept-kingwood.htm.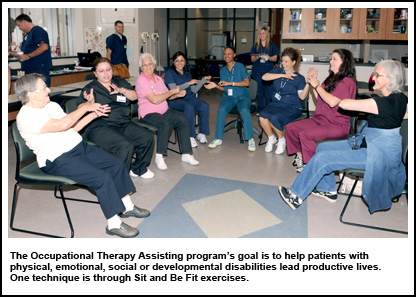 Helping patients with physical, emotional, social or developmental disabilities lead normal lives is the goal of LSC-Kingwood's Occupational Therapy Assisting (OTA) program.
OTA professionals ease the transition from the hospital to the home by showing patients new ways to dress, eat, bathe, cook and perform other necessary functions. They also work in community centers and nursing homes helping people with stroke, Alzheimer's disease or mental health problems. As students go through the program, they learn the knowledge, skills and attitudes needed to succeed in the ever challenging health care system.
"The program emphasizes the value of an individual's engagement in occupation as essential to wellness. Students learn and develop critical thinking skills, a strong knowledge base and substantial therapeutic intervention approaches that provide specialized assistance in order to help people relearn skills necessary to live productive and satisfying lives," said Norma Ticas, OTA program director at LSC-Kingwood.
Upon successful completion of the OTA program, graduates will earn an Associate of Applied Science degree. They are then eligible to take the national certification exam and become a Certified Occupational Therapy Assistant (COTA). The program is proud to state that the program has a 100 percent overall pass rate.
"The success of the program is attributed to the exceptional knowledge base and clinical skills of the faculty and staff," Ticas said. "The entire OTA program faculty and staff are dedicated and determined to ensure that all students succeed in all required areas."
One of the greatest advantages of a career as an OTA is the wide variety of job opportunities available to graduates in the program. Graduates can work in acute hospitals, long-term acute care centers, rehabilitation units, out-patient services, home health services, school systems, skilled nursing facilities and more.
The OTA program is a full-time, daytime program beginning each January. Program curriculum is developed under the guidelines of the American Occupational Therapy Association and includes academic and technical courses. In the final semester, students are placed in local healthcare facilities to complete fieldwork requirements.
For more information on the Occupational Therapy Assisting program, email Norma Ticas at Norma.Ticas@LoneStar.eduor visit http://lonestar.edu/occupational-therapy-dept-kingwood.htm.
---
Register now for credit classes online through myLoneStar. Classes are offered days, evenings, or weekends in traditional, Internet, video, TV and independent study formats. For more information on how to register online, visit www.lonestar.edu/registration.
For general information about Lone Star College-Kingwood, call 281-312-1600 or visit http://lonestar.edu/kingwood.htm
With more than 75,000 students in credit classes for fall 2011, and a total enrollment of more than 90,000, Lone Star College System is the largest institution of higher education in the Houston area, and the fastest-growing community college system in Texas. Dr. Richard Carpenter is the chancellor of LSCS, which consists of five colleges including LSC-CyFair, LSC-Kingwood, LSC-Montgomery, LSC-North Harris, and LSC-Tomball, six centers, LSC-University Park, LSC-University Center at Montgomery, LSC-University Center at University Park, Lone Star Corporate College, and LSC-Online. To learn more visit www.LoneStar.edu.