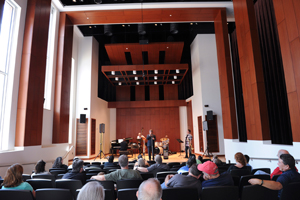 Having their own classroom space to rehearse, perform, learn and store instruments became a reality for music students at Lone Star College-Kingwood. In fall 2011, the college opened its brand new Music Instructional Building (MUS).
The new facility houses a recital hall (band and choir), practice rooms, rehearsal spaces, state-of-the-art classrooms, faculty offices, and much needed instrument storage space.
"Our new music facility accommodates the students' needs by providing plenty of practice rooms, and separate space for the ensemble, choir and band," said Joshua Alvarado, LSC-Kingwood student, president of the Camerata Club and student worker. "This building is a definite upgrade to the space that we had in the Performing Arts Center (formerly Student Fine Arts building)."
According to students, the MUS allows them to have their own lounge on one side of the building hallway and a quiet place to study on the other side. The Recital Hall, which houses the prestigious Yamaha CFX Grand Piano, is a 100-seat space for students, faculty/staff and the community to enjoy exquisite performances from the Music Department.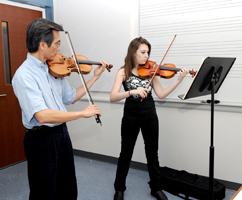 "One of the benefits of being in this nice facility is that the choir and band have their own space. Each group has their own acoustic needs so when the two have to rehearse at the same time they are not distracted by outside noise and at the same time it helps students improve their skills," said Patrick Tyler, LSC-Kingwood student, Instrumental vice president of the Camerata Club and a performer in the Jazz and Symphonic Band.
Although the MUS meets students' academic needs, students often find themselves hanging out in the building to be near other like-minded students, faculty and staff. The students say that they network more with others and they have an opportunity to have one-on-one tutoring sessions with their professors.
"Everyone who has a connection with music, whether they are in the program or not, congregates is the new building. It's great to have an opportunity to meet and perform with others who have similar interests," Tyler said.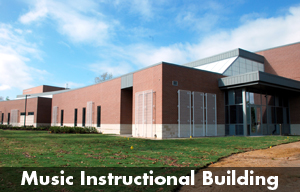 In addition to the music program, the 23,000 square foot facility is also the new home to several music groups such as the Kingwood Chorale and Chamber Orchestra, the Kingwood Big Band, the Kingwood Community Band the Kingwood Pops Orchestra as well as numerous student ensembles.
"The music building will offer students and the community a performance space complete with an exemplary acoustic environment for recitals, small ensemble performances, meetings and other events," said James Stubbs, dean of LSC-Kingwood's Arts and Humanities division.
For more information on the Music Instructional Building or on its programs, call 281-312-1485 or visit http://www.lonestar.edu/kingwood-music-department.htm.
---
Register now for credit classes online through myLoneStar. Classes are offered days, evenings, or weekends in traditional, Internet, video, TV and independent study formats. For more information on how to register online, visit www.lonestar.edu/registration.
For general information about Lone Star College-Kingwood, call 281-312-1600 or visit http://lonestar.edu/kingwood.htm
With more than 75,000 students in credit classes for fall 2011, and a total enrollment of more than 90,000, Lone Star College System is the largest institution of higher education in the Houston area, and the fastest-growing community college system in Texas. Dr. Richard Carpenter is the chancellor of LSCS, which consists of five colleges including LSC-CyFair, LSC-Kingwood, LSC-Montgomery, LSC-North Harris, and LSC-Tomball, six centers, LSC-University Park, LSC-University Center at Montgomery, LSC-University Center at University Park, Lone Star Corporate College, and LSC-Online. To learn more visit LoneStar.edu.