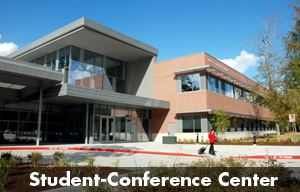 Opening the doors at Lone Star College-Kingwood's new Student Conference-Center (SCC) this fall was a breath of fresh air for many students. Long lines in a crowded area with limited seating and a lack of privacy is now a thing of the past.
"This incredible facility will help to create a vibrant and engaging student community and new synergy on our campus. Our new building will serve our students, faculty and staff as a hub for all kinds of activities designed to complement and enhance the student experience in and out of the classroom," said Dr. Darrin Rankin, vice president of Student Success.
The SCC provides a one-stop-shop for all student services for current and new students. This new building houses programs and activities such as the welcome center, advising, admission and registration, financial aid, the business office, student activities office, women's center, student clubs and recreation, resource and multicultural center, career services, disability services, police, food services, campus bookstore, and testing center.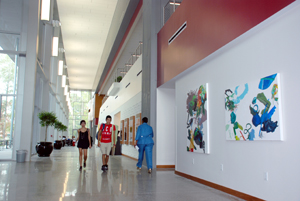 The former SFA Building, now renamed Performing Arts Center (PAC), was built when the college had less than 3,000 students. In the fall, there were more than 12,000 students at LSC-Kingwood.
"When we had to go to the PAC building to register or meet with an advisor, there was just one hallway for everything. The space was smaller and at times there was no room to meet with our advisors so we had to communicate through email which was difficult," said Joseph Gallegos, LSC-Kingwood student, president of the Environmentally Conscience Organization (ECO) and a student ambassador. "The PAC served its purpose but today we have more space to take care of our needs; everything is easily accessible and there is privacy to meet with advisors."
Not only does SCC serve students academically, it also takes care of their social needs. The second floor houses the Office of Student Life (OSL). There, students can interact with their peers over a friendly game of pool, PlayStation 3 or via Wii. There is a conference room for student organizations to meet and space for students to study quietly.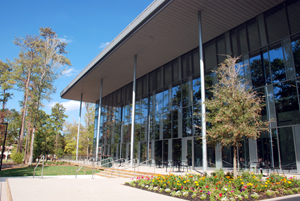 "As vice president of Phi Theta Kappa and the Honor Student Organization, the SCC provides a well-rounded experience for students. Downstairs, the welcome center houses all of the necessary functions of registration and upstairs is a place for students to go and network; meet other people and get involved in an organization that interests them," said Karen Fingado, LSC-Kingwood student. She is also a student trainer for the STAR program and a Public Achievement coach.
Inside the 62,000 square foot facility, the Conference Center will meet both the college and the community's demand for space to accommodate small and large groups. With the capacity to seat 375 people banquet style, it is also flexible enough to be divided into four smaller rooms to meet all space needs.
"Overall, I think LSC-Kingwood put a lot of thought into this building and into how it will serve students' needs. The SCC is just a nice place for students to take care of their business and get and stay connected to their advisors, professors and other students," Gallegos said.
For more information on the Student-Conference Center or to register for spring 2012, call 281-312-1600. Students can also register for class at http://lonestar.edu/registration.htm.
---
Register now for credit classes online through myLoneStar. Classes are offered days, evenings, or weekends in traditional, Internet, video, TV and independent study formats. For more information on how to register online, visit www.lonestar.edu/registration.
For general information about Lone Star College-Kingwood, call 281-312-1600 or visit http://lonestar.edu/kingwood.htm
With more than 75,000 students in credit classes for fall 2011, and a total enrollment of more than 90,000, Lone Star College System is the largest institution of higher education in the Houston area, and the fastest-growing community college system in Texas. Dr. Richard Carpenter is the chancellor of LSCS, which consists of five colleges including LSC-CyFair, LSC-Kingwood, LSC-Montgomery, LSC-North Harris, and LSC-Tomball, six centers, LSC-University Park, LSC-University Center at Montgomery, LSC-University Center at University Park, Lone Star Corporate College, and LSC-Online. To learn more visit LoneStar.edu.