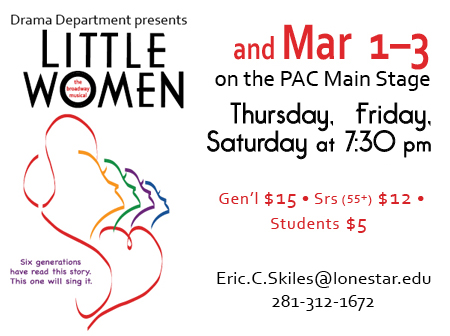 Great music and a story passed down from one generation to the next will be featured at Lone Star College-Kingwood's performance of "Little Women-The Broadway Musical".
This is LSC-Kingwood's Drama Department first time to perform this production. Although there are different versions of plays, operas and musicals, this version focuses specifically on Jo March's desire to become a world-famous writer - and the experiences she had which became the plot in "Little Women", the novel.
"'Little Women' was chosen because of the beautiful music and the compact cast. There are only 10 actors who will perform 18 different roles so this is an added challenge for the actors involved in the production," said Eric Skiles, artistic director of Theatre at LSC-Kingwood.
"Little Women –The Broadway Musical" is about the lives of four March sisters – aspiring writer Jo, romantic Meg, pretentious Amy and kind-hearted Beth – and their beloved Marmee unfolding in song and dance through the melodramatic short stories Jo writes in her attic studio at home in Concord, Mass. This production is based on Louisa May Alcott's classic 1869 semi-autobiographical novel.
"This is our family-friendly production of the season – all ages are welcome and will find something to enjoy," Skiles said.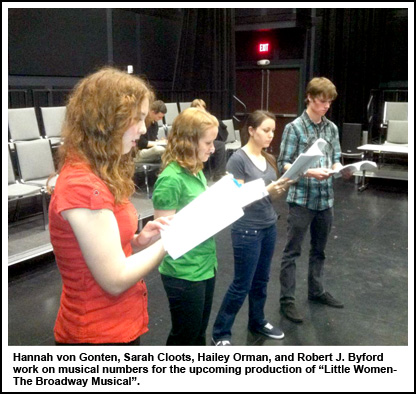 "There is a great depth of emotion in the work, from laughter to tears. There is also an amazing amount of beautiful music, every song is an individual journey, and the cast has some truly wonderful voices."
The cast consists of Bekah Barnett, playing Jo March; Lori Miller as Marmee and Hag; Hannah von Gonten, playing Meg and Clarissa; Hailey Orman as Amy and Troll; Sarah Cloots playing Beth and Rodrigo 2; Melissa Sturgis as Aunt March and Mrs. Kirk; Daniel Calderon playing Professor Baer; Robert Byford as Laurie and Rodrigo; Garrett Cross playing Mr. Brooke and Braxton; and Bobby Malbrough as Mr. Laurence and Knight. Behind the scenes are Skiles, director; Jay Whatley, musical director; Kalliope Vlahos, scenic and lighting design; and LA Clevenson, costume design.
"Little Women-The Broadway Musical" will be performed in the Performing Arts Theatre Feb. 23-25 at 7:30 p.m., Feb. 26 at 2 p.m. and on March 1-3 at 7:30 p.m. Tickets, available at the box office in the Performing Arts Center, are $15 for general admission, $12 for senior citizens and $5 for students.
For more information, contact Eric Skiles at 281-312-1672 or Eric.C.Skiles@LoneStar.edu.
---
Register now for credit classes online through myLoneStar. Classes are offered days, evenings, or weekends in traditional, Internet, video, TV and independent study formats. For more information on how to register online, visit www.lonestar.edu/registration.
For general information about Lone Star College-Kingwood, call 281-312-1600 or visit http://lonestar.edu/kingwood.htm
With more than 75,000 students in credit classes for fall 2011, and a total enrollment of more than 90,000, Lone Star College System is the largest institution of higher education in the Houston area, and the fastest-growing community college system in Texas. Dr. Richard Carpenter is the chancellor of LSCS, which consists of five colleges including LSC-CyFair, LSC-Kingwood, LSC-Montgomery, LSC-North Harris, and LSC-Tomball, six centers, LSC-University Park, LSC-University Center at Montgomery, LSC-University Center at University Park, Lone Star Corporate College, and LSC-Online. To learn more visit LoneStar.edu.